Dalhousie Science in the News
»
Go to news main
In Record Time: Psychology student recognized for 3‑minute research thesis presentation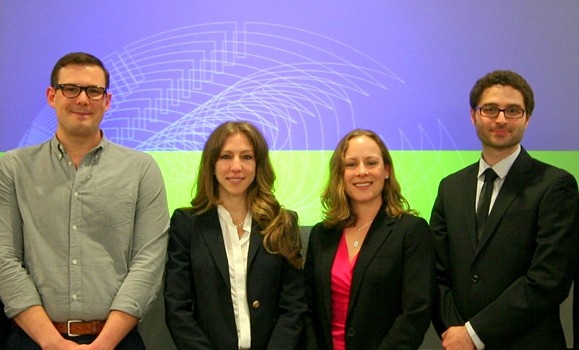 The Three-Minute Thesis (3MT) model is a recent development that gives graduate students an opportunity to present their research to judges with diverse backgrounds. The Eastern Regional Competition was held at Dalhousie last Thursday, including judges John Polanyi (Nobel Laureat and University of Toronto Chemistry professor), Kady O'Malley (CBC journalist) and Noreen Golfman (president of the Canadian Association for Graduate Studies).

In under three minutes, Chevalier presented her research to three panel memebers, explaining how she used magnetic stimulation on the brain to discover the potential of learning a second language as an aphasia treatment. After winning the competition at Dalhousie she received honorable mention at the Eastern Canada competition.

"We need to get out there — out of academia — and get the word out," said first-place finisher Kirk Luther . "It's about the application, talking to the people that the research can help, in an accessible way."

Read more on Therese's win at Dalhousie's 3MT March Competition and her honourable mention this past week at the regional competition.