Dalhousie Science in the News
»
Go to news main
Conducting Scientific Research in First‑Year
This past Friday marked the annual Integrated Science Program's Research Symposium, in the foyer of the LSC, where first year students displayed their final research projects to the public, faculty, and students. This event is the culmination of a year of thinking across discipline boundaries and learning to conduct scientific research.
Thirteen projects in total were completed in small teams of 2-4 students under the supervision a Dalhousie researcher.  These research projects prepare students for a BSc Honours degree and kick-start their undergraduate research careers at Dalhousie.
Research practice early in your degree
"Friday's symposium showcased the research projects conducted by Integrated Science students in science labs across campus," says Cindy Staicer, Integrated Science Program Director. "This opportunity for first-year BSc students to conduct original scientific research is unique in Canada and a highlight of the Integrated Science program."
The scope of the projects ranged from relating the density of mitochondria and activity of different kinds of neurons, to reconstructing the recent biological and geological history of Conrad Beach, to studying the self-discharge properties of supercapacitors being developed for alternative energy storage.
Selena Maxwell, Zara Forbrigger, and Neyousha Shaisavandi studied predatory movement in three dimensional prey swarms under the supervision of Theordore Kolokolnikov, Department of Mathematics and Statistics. Afterwards they all indicated they all wanted to complete their honours degree in Biology, Chemistry, and Physics, respectively, saying that the program opened them up to all the different science disciplines.
"Gaining this research experience in first-year was amazing," says Selena Maxwell. "The writing component of the project turned out to be very important and a great lesson for us."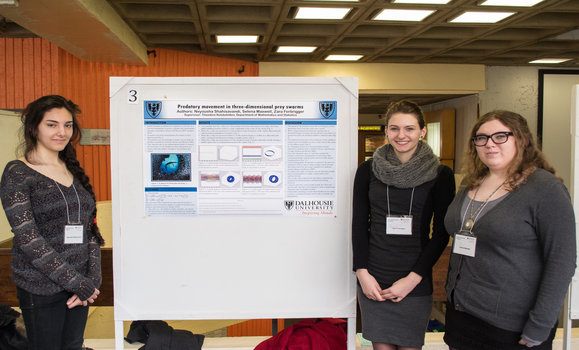 Photo Credit: Gabrielle Tompkins MacDonald. Left-to-right: Integrated Science students, Neyousha Shaisavandi, Zara Forbrigger, and Selena Maxwell.
Learn to write and think like scientists
Students experience the entire research process, from developing a research question, to preparing a proposal, to collecting and analyzing their data, and finally to presenting their research findings in individual written reports, team conference presentations, and a team scientific poster session on the last day of class, open to the public.
Their fall term classes prepare them for tackling a research project. They learn how to write and think like scientists, to collect and analyze data, and to evaluate and synthesize information, in addition to learning important concepts in the different fields of science.
"I was impressed with the mastery of research skills displayed by the students, their deep understanding of their own projects as revealed by their abilities to discuss the details and implications of their work, their appreciation of the diverse array of projects conducted by their classmates, and their enthusiasm for scientific research."