Dalhousie Science in the News
»
Go to news main
Networking at the Capital: MAP Ottawa Tour 2013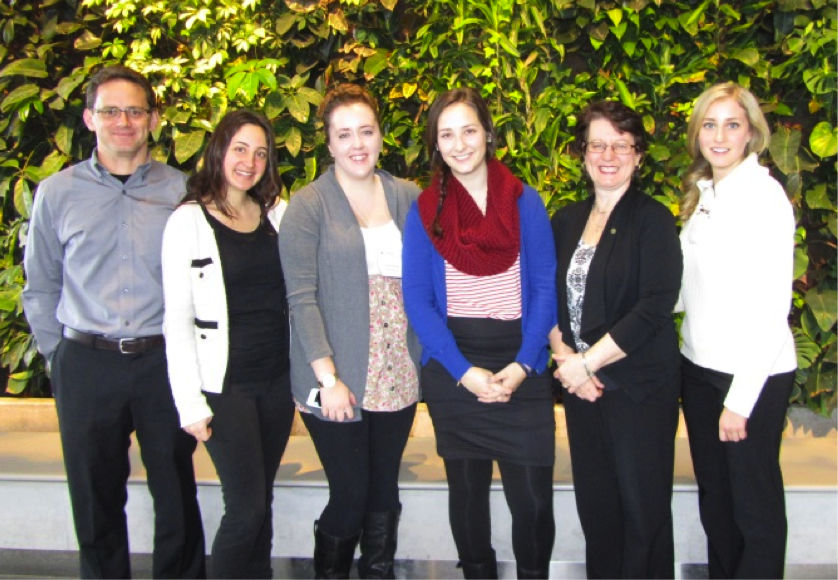 Photo caption: MAP members of the Ottawa tour: (l to r): Nicolas Winkler, Sonia Jind, Chloe Ready, Shelby McLean, Becky Field and Alana Vineberg.
This past December you could find students of Dalhousie's Marine Affairs Program (MAP) mingling in Ottawa with potential internships hosts, employers, and alumni. 
MAP students were not alone.The group also included two Master of Environmental Science and ten Master of Resource and Environmental Management students. All of which are part of an annual student tour to Ottawa led by Marine Affairs Program administrator Becky Field and Brenda Smart, Internship Coordinator of the School for Resource and Environmental Studies.
"The two day tour was designed to give the students an opportunity to expand their networks and discover potential career opportunities," says Becky Field, MAP administrator and group leader, "Students learn about policy issues and the federal government departments related to their fields."
During their visit, the students met with 30 members of Natural Resources Canada, the Canadian Environmental Assessment Agency, Fisheries and Oceans Canada, Parks Canada and Environment Canada.
"They interacted with human resources staff, policy analysts, and Director Generals," says Becky Field, "They also met Mike Wilson,  Executive Director of Sustainable Prosperity a national green economy think tank."
For the students the tour to Ottawa was not only a lesson in networking, but also a great way to discover the career options in their fields.
"The students were very grateful to the hosts and participants who shared information on their daily responsibilities and career paths," says Becky Field, "The contacts they made and the knowledge they gained will prove invaluable when they enter the job market upon completion of their degree."