News
»
Go to news main
Captain Earle Wagner Marine Management Award
Posted by
Carli Lapierre
on May 17, 2021 in
News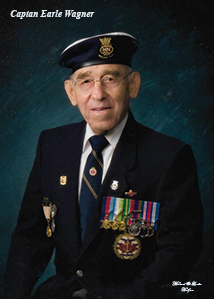 The Marine Affairs Program is pleased to announce the establishment of the Captain Earle Wagner Marine Management Award. The award is the result of a generous endowment from Captain Earle Wagner. It was developed to support the ideals of the Marine Affairs Program, and recognize Master of Marine Management students conducting visionary research on the impacts of climate change. Students are challenged to think originally about the impact of global warming on marine and human life, and make fact-based arguments related to their research.
Captain Wagner is a World War II veteran and member of the Marine Fraternity. His family has worked in the fishing industry since settling in Lunenburg in the eighteenth century. His grandfathers, father, and two brothers worked as mariners. Captain Wagner began his career as a merchant seaman and was later employed by the Department of Fisheries and Oceans as a Marine Superintendent. This role exposed Captain Wagner to the importance of marine management and the impacts of mismanagement on the North Atlantic cod fishery. Captain Wagner's vast experiences in marine transportation led him to believe that, "our oceans, unexplored, contain undetermined resources that if discovered and utilized, could be a valuable asset to humanity." The Captain Earle Wagner Marine Management Award was therefore created to challenge students to identify, research, and develop these resources to combat climate change.
Marine Affairs would like to congratulate the first annual Captain Earle Wagner Marine Management Award recipient, Jessica Cucinelli. Jessica's graduate project explored the effects of the proposed Baffinland Iron Ore Mine on marine shipping, the environment, and Inuit communities in the surrounding area. The study suggests that increasing ship traffic for the mine will negatively impact Inuit livelihood and Arctic wildlife. To combat the human and environmental risks, Jessica argues that resources must be focused on improving marine management strategies in the North while marine traffic in the region increases.  Jessica is currently working as a research assistant on Dalhousie's Demystifying Maritime Governance project commissioned by Clear Seas Centre for Responsible Marine Shipping in Canada and hopes to continue to focus on impact management in marine shipping.
The Marine Affairs Program would like to thank Captain Wagner for his vision, and generous support of Master of Marine Management students, and congratulate Jessica Cucinelli for her exceptional work.