News
»
Go to news main
Climate change and sustainable fish production in Europe
Posted by
Lucia Fanning
on April 24, 2019 in
News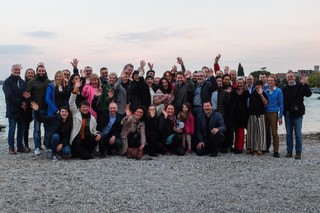 As one of three external advisors to the European funded project ClimeFish, Lucia Fanning, MAP Professor, recently attended the 4th Annual Scientific meeting of the project in Desenzano, Italy. ClimeFish explores the response of the most important, and the less resilient, exploited European fish stocks to different climate scenarios. The project also reviews the most productive and established aquaculture species in these scenarios.
Three production sectors have been defined: marine fisheries, freshwater lakes and ponds, and marine aquaculture. Within these sectors, ClimeFish has identified 7 habitats: demersal and pelagic species for marine fisheries; cold and warm water species for lake and pond production; North, South and coastal regions for marine aquaculture. The habitats and regions chosen allow for studies on a range of predicted temperature changes, and a variety of potential threats and biological processes.
ClimeFish provides advice to the European Commission by conducting assessments of the current knowledge of climate effects on targeted species. Modeling is used to predict potential ecological and socio-economic consequences of these effects. Members of the ClimeFish project work with a diversity of stakeholders in 15 case studies across Europe to assess the risk of predicted impacts and prioritise these risk and suggest management responses. They identify early warning indicators to trigger recommended management responses.  An online visualization tool has been developed to assist European policy makers and stakeholders understand and mitigate the predicted impacts.  Three non-European cases in Chile (salmon aquaculture), Canada (marine fisheries- East Coast) and Vietnam (shrimp aquaculture and marine fisheries) complement the European case studies.