Isabelle
Coutand
Associate Professor; Director - Fission Track Laboratory
Department of Earth Sciences
Email:
icoutand@Dal.Ca
Phone:
+1 902 494 7827
Fax:
+1 902 494 6889
Mailing Address:
Dalhousie University
1459 Oxford Street
PO BOX 15000
Halifax NS B3H 4R2
CANADA

Research Topics:
Tectonic geodynamics
Earth surface processes
Geochronology
Office:
  Life Sciences Centre
  3rd floor, Bio / E S Wing
  Rm. 3015
  Floor Plans

Current Research
Interactions tectonics, climate and erosion; Mountain ranges development; Detrital and in situ thermochronology.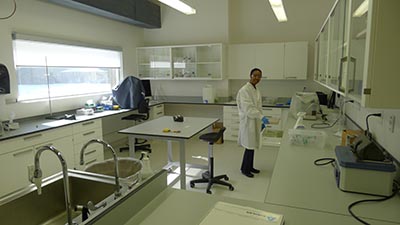 The new low-temperature thermochronology lab is now open - we perform fission-track and (U-Th)/He dating - please send inquiries to Thermochronology@dal.ca"
Education

PhD, Geosciences Rennes, France (1999)
DEA, Geosciences Rennes, France (1995)
Undergraduate Studies, Université des Sciences et Technologies de Nantes, France (1994)
Teaching
Research Skills in Earth Sci ERTH 6300

Research Opportunities
Project 1. PhD, Fall 2018, Funding pending for tuition, fees, stipend, and research costs. On May 12, 2008, the Mw 7.9 Wenchuan earthquake occurred in eastern Tibet causing a 270 km-long co-seismic surface rupture, motivating the Wenchuan Earthquake Scientific Deep Drilling Project. The extracted metamorphic bedrock cores provide a unique natural laboratory to calibrate and test the kinetics of OSL-thermochronometry, a new technique potentially capable of constraining spatiotemporal changes of the thermal field in the upper two km of the continental crust, as yet a poorly explored crustal layer. This project involves analytical work in the lab and numerical modeling.
Collaborations: Dr. F. Herman (Lausanne U.), Dr. G. King (Bern U.), Pr. H. Li (Beijing U.).


Project 2. PhD, Fall 2018, Funding pending for tuition, fees, stipend, and research costs. The North Anatolian Fault zone (NAFZ) is a right-lateral transform plate boundary between Eurasia and the Anatolia microplate. The fault extends from northern-eastern Turkey to northern Greece and is one of the most hazardous active strike-slip faults on Earth with 12 Mw > 6.5 since 1934. The NAFZ formed ~ 16-11 Ma ago in eastern Turkey in response to the collision of Arabia and Eurasia and has grown westward with its tip entering the north Aegean domain about 5 Ma ago to supposedly reach the Golf of Corinth 1 Ma ago. If this conjecture were correct, this plate boundary would have propagated southwestward at a mean rate of ~ 100 km/Ma during the Pliocene. However, virtually no geochronological data are available to support this assertion. This project involves structural mapping in the field, and cutting-edge U-Pb calcite dating on a string of islands straddling the fault, to date the NAFZ propagation across the North Aegean domain.  
Collaborations: Dr. C. Mottram (Portsmouth U.).

Kangchenjunga (8,586 m) from Gocha La Pass, Sikkim Himalaya