Field Seminars
2016 - Lusitanian Basin, Portugal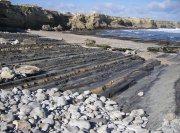 This past June Prof. Wach, Dr. Silva, as well as M.Sc. Students Natasha Morrison and Taylor Campbell, travelled to Portugal to conduct field work in support of the Source Rock of the Central Atlantic Conjugate Margins Project. This Field Seminar explored the organic-rich facies and source rocks of Jurassic age (Lower, Middle, and Upper Jurassic), from the Lusitanian Basin, Portugal. Samples from the lower and mid Jurassic have been collected in addition to analogue data for their M.Sc. research.
View the Safety Guide for the Lusitanian Basin Field Seminar [PDF - 2.8 MB]
2015 -Wessex Basin, UK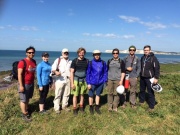 The Wessex Basin Field Seminar took place on June 5-9th, 2015, exploring the traverse a classic section of Mesozoic and Cenozoic strata and examine the petroleum systems of the strata. The transect examined outcrops of Triassic, Jurassic, Cretaceous and Tertiary rocks along the South Coast of England and looked at the elements of source, reservoir and seal.
Photos from the Field Seminar
2014 -Martimes, Fundy & Scotian Basin, Canada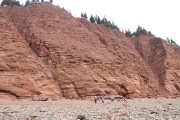 The Field and Core Workshop: Petroleum Systems of the Maritimes, Fundy, and Scotian Basin took place August 14-18, 2014. The seminar explored the petroleum systems of the area, visting Joggins Fossil Cliffs, Five Islands Provincial Park, Rainy Cove, Cheverie, and the Canada-Nova Scotia Offshore Petroleum Board (CNSOPB) - Data Management Centre.
Photos from the Field Workshop
NOTE: Links on this page require Consortium membership with the Source Rock & Geochemistry of the Central Atlantic Margins. Consortium username & password is required.