Greater focus
Hannah Blanchard, Marine Biology and Oceanography Co-op (Honours)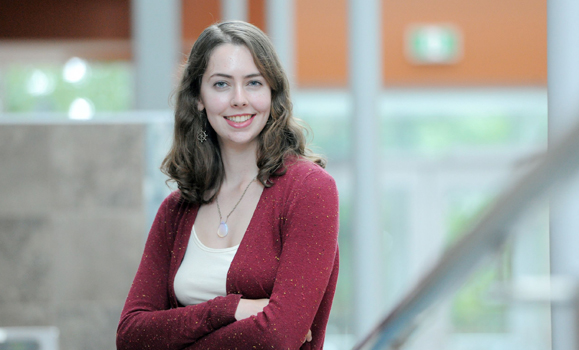 The ocean is powerful. And for Hannah Blanchard her love and curiosity of it was so strong that it influenced her education, and now her future career plans.
"I have always been drawn to the ocean," says Hannah. "I grew up in Maine, before moving to Nova Scotia, and I've spent a lot of time near the water. I knew I wanted to study oceanography and marine biology."
When it came time to choose a university, she picked Dalhousie partly because it was close to home, but mainly because the ecosystems of the east coast have always intrigued her and she wanted to learn more.
"I was very interested in doing the co-op program because I wanted to gain real-world experiences outside of the classroom," says Hannah. "In addition to my summer research, I've also had three work-term placements. I've worked with technology that is being described as 'next generation.' It's very exciting to have these types of skills and knowledge before I've even entered the workforce."
Hannah says with each new learning opportunity, she feels one step closer to figuring out what the future holds.
"I'm walking away from my summer research experience with a greater focus on what I want to do next. Having all of these learning opportunities has allowed me to find the elements of oceanography that I am most interested in," says Hannah. "I'm looking towards a Masters in Marine Environmental Management, which is a great way to combine all of my interests into a career that is multi-disciplinary.
"I am so grateful for the Faye Sobey Research Award. Every experience that helps you realize what you're truly passionate about is invaluable."