Online Learning
Dal Science is busy preparing for an online fall semester that will be a comprehensive and engaging learning experience for all of our students. See how our faculty, instructors and students are preparing.


Dal Science Goes Online 
The Faculty of Science is committed to supporting you. We know this may not be the way you envisioned your time at Dal, but we assure you that our faculty and instructors are working diligently to provide you with the best possible education and experience online. One thing we can assure you is that this fall will be more dynamic, more thought out and more engaging than the spring session. Dalhousie is investing in over $1 million in technology development, additional online instruction training and increased online supports for students and our whole summer is devoted to making this experience a positive and a memorable one.

Faculty Testimonials

Q & A with Environmental Science Instructor Amy Mui, PhD on moving her courses online
Amy Mui, PhD, an instructor in the department of Earth and Environmental Sciences, has been working extremely hard transitioning her courses to online for this fall. We sat down with Amy to find out exactly how she is preparing for this new normal.

What courses are you currently preparing for?
A fall field course among many others. It is a second year course (ENVS2500) called Field Methods in Environmental Science. It's not the most exciting title but the stuff we do is pretty cool. We learn about 50 bird species and their song, all native reptiles and amphibians including frog calls, native and invasive trees and their pests and DIRT! So much dirt. Turning a field course to a virtual platform has been challenging but I am soliciting a student committee for feedback and ideas as well as drawing from the numerous resources available from Dalhousie. Though content delivery will be online, students will still need to get outside and get dirty!
How have you adjusted your content to fit online learning?
I am moving my content into smaller sized parcels using a variety of delivery methods and approaches which may be easier for students to digest. I have included many interactive components as well as regular open meetup times for those wanting to chat with me and their peers.

What would you tell a student who is hesitant about online learning and is nervous about no in person interaction?
I would tell them that there can be as much or as little face to face interaction as needed. Video meetups can work quite well and allow for candid and easy discussion. It's also easier to find a time to meet virtually compared to traditional office meetings. I have used them with my students in the past with great success.

What are your most excited about for the fall?
I am most excited to see returning students and to get to know incoming ones. I plan to prioritise small group virtual meetups and also to facilitate student-only chats so that they can discuss course materials and develop camaraderie over the term.

Do you feel confident in the ability to deliver a positive experience for students through online learning?
I know that this is not what students would have hoped for but I would like to reassure them that we are all working incredibly hard to deliver a fair, positive, and engaging learning experience for them.
I would like to remind students that this will not last forever and to try and look for the silver linings wherever they may be. If you are having problems that you cannot resolve, please do not suffer in silence. There are so many people that you could reach out to, including myself, any of your department advisors, and the great folks at Student Health and Wellness and Student Affairs among others. We are here to support you!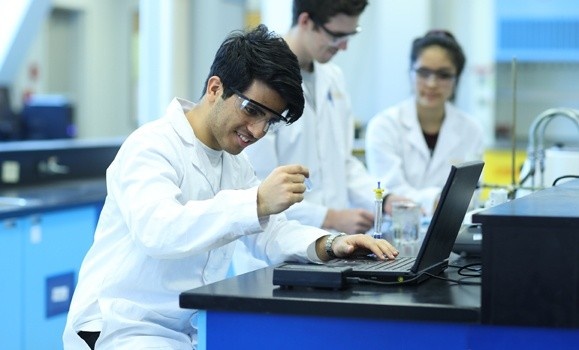 Student Testimonials


Caine's experience
Online learning allowed me to be creative and manipulate the context of my own learning environment. The ability to take control of my workspace enhanced my learning experience quite a bit. I enjoyed the ability to watch lectures at my desired pace and pause when needed. This eliminated the "rush" of jotting down notes and paying attention. At first, establishing a routine was the most challenging aspect of online learning. As it happened, I built habits, and these skills transferred to other areas of my life.
This is an entirely new experience for most people. Therefore, it is an opportunity to learn and collaborate. It is important to keep an eye out for each other and reach out if we notice someone is struggling. You can still use Accessibility Services with online learning. Students can reach out if they still require that support or may wish to explore the option of setting up an accessibility plan. While your instructor may not be physically present, they will still be available through e-mail. I strongly encourage students to take advantage of that and ask for clarification when needed. Some faculties have also set up a Discord or Microsoft Teams chatroom where TAs and instructors are available to answer live questions between certain hours.


Rachel's experience
There is a significant mental switch from working/studying on campus (in the library or other designated workspaces) to working/studying in your home, since the two have almost always been kept very separate. I recommend trying your best to set "working hours" for yourself that roughly approximate a daily class schedule. This means setting hours in the day where you can be in a workspace with your phone off and put away, as if you were in class. Communication is important to let others know that during these hours you are working and want to minimize distractions. Avoiding distractions was challenging, as well as communicating with instructors when I needed clarification; waiting for replies to emails can be frustrating and more time-consuming than asking questions in or after class, for example. I had to learn to be patient and understanding that my instructors were also working from home and facing the same distractions and challenges to productivity as I was. Try to cut yourself some slack when you're feeling unproductive – it can be tough to focus and work well at home, and you're likely to have off days just as you would during a regular semester. I find that taking a walk while listening to music or taking time to cook an elaborate meal are great activities for when my brain is feeling fried.


Sandra's experience
I liked that I could learn at my own pace. Sometimes I find the lecture hall to be overwhelming with a lot of information thrown at you all at once. What I found challenging was not having the structure of a "class time". It was up to me to designate when exactly I was going to sit down and do ALL my studying for ALL my courses. Take course work one step at a time. Looking at all that has to accomplished at once can be overwhelming. Make a schedule for yourself. Even if it's just what day you're going to do what lecture, that way you can stay on top of coursework. Take breaks! Burnout is real! Especially if you get incredibly stuck on a certain topic, take a minute (or 10) to clear your head. If you're finding school hard, make time for things that you enjoy, that "fill your bucket" so to speak.

Aline's experience
With online learning I am completely in charge of my own schedule and pace. I enjoy the responsibility and autonomy as it enables me to have a flexible schedule; however, I can see how the incoming cohort or other students may struggle with the openness of e-learning. Don't be afraid to attend virtual office hours! Many students don't attend, but it is such an easy way to solve any problems you are having, and TAs and professors are always eager to help. I really like how all my online classes have been videos instead of live streams. Having the ability to rewind, pause, or slow down the video is a game changer, and is sometimes even easier than in person class as I can move at my personal pace.