The Dalhousie Outdoor Ecolab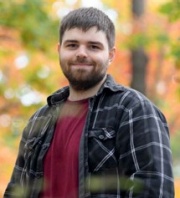 Working with the Ecolab was an opportunity to study and observe the diversity of Nova Scotia's native flora. In the future, this lab space will be unique concentration of native specimens in the urban environment, providing opportunities toexperince a scaled representation of what this province offers.
Yuri Kulish, BSc student, Biologybiology

For years, the outdoor courtyard space between the three wings of Dalhousie University's Life Sciences Centre has been a quiet but unused fixture of the Dal Science community.
We're transforming it into a living, thriving laboratory. Your generous gift to the Science Student Experience Fund (SSEF) moves us closer to completing the Dalhousie Outdoor Ecolab, a much-needed learning space for our students on campus.

The Dalhousie Outdoor Ecolab will get students out of the classroom to study the eight "ecoregions" of Nova Scotia without leaving campus. The Ecolab will be threaded through curriculum in the biology, environmental science and earth sciences programs, with opportunity for more program integration over time.   
What is an ecoregion?
Ecoregions take into consideration geological landforms, macroclimate, vegetation, soils, water and regional human activity uses. There are eight in Nova Scotia.
Northumberland – Bras d'Or
Fundy Coast
Western
Atlantic Coast
Valley and Central Lowlands
Eastern
Nova Scotia Uplands
Cape Breton Highlands and Taiga
You can learn more about Nova Scotia's ecoregions here and here.
How will the Dalhousie Outdoor Ecolab foster student success?
Use of the lab will complement lectures, traditional labs, and existing field courses/classes and other classes that bring students off campus. More students, especially those in their early undergraduate years, will get hands-on experience through use of the Ecolab.
Biology
Students in biology study phenology, ecology, diversity, entomology and ornithology. Direct and free access to the Ecolab will not only give students insight on an entire province's plant life, but it'll also help them understand the insects, birds and animals that thrive in naturalized urban environments.
Earth Sciences and Geography
Fieldwork has long been an integral aspect of geologic and geographic education. A naturalized site on campus with a number of large, geologically diverse rock samples from around the province will allow students to compare geological features and history in our small corner of the planet.
Environmental Science
Environmental science is an exciting field that applies the findings of multiple disciplines to questions around and problems facing our natural world. The Ecolab would help teach students foundational concepts of the interconnectedness of the earth's spheres, ecology, forestry, agriculture and human health in an urban setting.
All students
A quiet, natural space tucked away between three wings of a building is a prime location for studying in the fresh air, brainstorming group work ideas or just meeting friends between classes.
Who can use the Dalhousie Outdoor Ecolab?
Beyond its use as a teaching and learning space, we'll invite all faculty, staff and students at Dalhousie to unwind and re-energize in the Ecolab.
We believe this versatile new space will benefit younger students and those in different faculties too.
We also plan to install educational signage, seating and small trails throughout the space. Dal neighboursneighbors and other members of the community will be encouraged to visit the Ecolab to learn more about our province.
How will gifts to the SSEF be used?
The courtyard space between wings of the LSC is somewhat of a blank slate. On one hand, that allowed us to dream big and work up the Ecolab vision. On the other, it means we need funds to bring it to life.
We need to purchase native plants (including trees), transport large rocks and do extensive landscaping of the area.
We plan to include a research-grade weather station in the Ecolab for further educational benefits and potential research collaborations, so costs associated with the procurement, installation and maintenance of scientific instrumentation are expected.
Because the Ecolab will be a space for revitalization and learning for the entire Dal community and our Halifax neighbors, we are installing educational signage, seating areas and small trails throughout the space.
When will the Outdoor Ecolab be completed?
Completion is set for late 2018, but the involvement of students in each step of the Ecolab's development is important. Whether they're helping with planting to installing a weather station, we hope the Ecolab will leave an impact on students even before it's up and running.

CONTACT
If you have questions about the Ecolab or wish to learn more about how to get involved, please contact alumni.science@dal.ca.