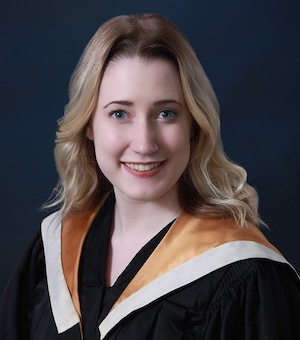 Cali Kehoe found her groove in Dalhousie's Master of Resource and Environmental Management program. Nearing the completion of her undergraduate degree in industrial engineering from Dalhousie, Cali recalls, "I loved engineering, but I also had a passion for the environment. I wasn't sure if I would be able to pursue industrial engineering work in the environmental field. I was looking for some sort of environmental program that also had components of applied work, or was course-based." Many of her options would have required a thesis, and she found the idea "daunting."  
Upon learning about the MREM program, "lights went on: it was exactly what I was looking for." Everything about MREM was falling into place for Cali: "the director, Michelle Adams, is an engineer so that also made me feel like this would be a great fit." 
Cali was happy to find that she could build on the foundational learning from her undergraduate degree: "I was interested in the role of government and corporations in terms of resource use and environment. I was also interested in fisheries, oil, gas and energy. I stuck to those roots."
During her first semester in the program, Cali selected two elective courses that would become influential for her: Corporate Social Responsibility with Michelle Adams and Indigenous Perspectives with Melanie Zurba. Cali describes them as "two of my favourite courses in my entire degree. I was thirsty for knowledge. They were fundamental and had so much information in them that was broad and could be applied to anything." 
Reflecting on her experience during the pandemic, Cali says, "we were lucky because we did our Tri-Course project [a milestone for the program] before COVID. It was a great opportunity for us all to become friends before we were isolated from each other physically. A lot of my peers would see that as the turning point for our program."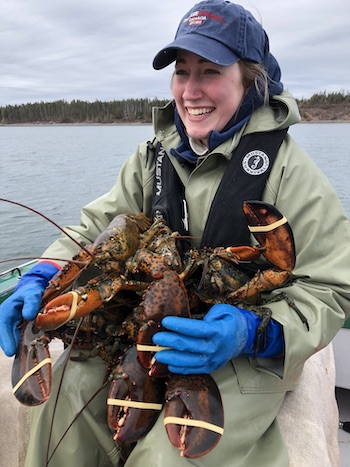 "I grew up on the east coast, I'm originally from Cape Breton Island, Nova Scotia, from a small community on Isle Madame." Cali's family are lobster fishers and last year she had the opportunity to "fish the entire season with them." Cali explains, "In the summer of 2020 I noticed that there was contention on the water and some issues between settler lobster fishers that I wanted to better understand." She completed her master's project on this very issue. "I was excited to take my education and apply it to something that I care about and was part of my family history." 
"I completed a literature review and used a few interviews that I conducted as support for the results from this review. I looked at social phenomena and different psychological theories. I would be happy to share it with anyone who wants to read it."
Normally, that project would have been based on her summer internship, but Cali's was altered when the Office of the Auditor General of Canada, where she had secured a position, could no longer take her on during summer 2020 due to the pandemic. Luckily, "we were able to pivot and have my internship changed to this past January." Cali was then hired in a full-time position in the same Office.  
"Right away, I'm moving from my internship into my full-time work. I give a lot of the credit to the MREM program. It really helped me secure a job." MREM Internship Coordinator Brenda Smart organizes a trip for MREM students to visit government departments in Ottawa every year to facilitate practice interviews and help students network with internship employers. Brenda was the one who suggested that Cali interview with the Office of the Auditor General of Canada. 
Cali shares, "I had no idea what the Office was prior to that," but now she can explain that "the Office holds other government entities accountable for what they're doing. They do a lot of audits on different government programs." 
Not only did Cali excel in her internship, she was a teaching assistant in multiple courses throughout her time at Dalhousie University. "I TA'ed any opportunity that I could," explains Cali. 
"I really enjoy engaging with students. I like to help all of my classmates too and always make myself available to lend advice and support to my peers."