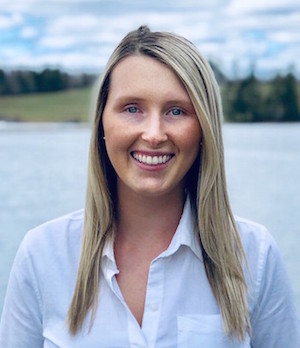 Originally from the Wild Blueberry Capital of Canada (Oxford, NS), Emily Davis is striving to be an advocate for the environment. The recent Master of Environmental Studies graduate always knew she wanted to be "a piece of the very large pie"—the professionals working towards environmental solutions.
Emily decided that she wanted to join the MES program when she was a fourth-year undergrad at Dal's Faculty of Agriculture in Truro. "I was looking for a master's program that would not only focus on the science but also the management and application of environmental sciences."
When a professor suggested the School for Resource and Environmental Studies, Emily investigated and discovered it to be "a golden little gem within Dal" that offered everything she was looking for. "I really value being able to pair the science with management, social implications, political implications and environmental studies. It's very interdisciplinary and multifaceted, which was exactly where I wanted to head with my education and my future endeavours," she says.
She found a strong sense of community in the MES program: "I was in a very close-knit cohort of students and the relationships I've developed with those students, I honestly believe, will be lifelong friendships." She is especially grateful for the ongoing guidance and support from her supervisor, Dr. Tony Walker. "He immediately made me feel that I was good enough to be there and that he would be able to guide me and give me the resources or time I needed to make this a very positive experience," she says.
The past two years have strengthened Emily's ability to "welcome changes and come to grips with the fact that things do not always go as planned." She says, "going to grad school has really taught me how to learn because it opened my eyes to so many different perspectives, and exposed me to so many different approaches, different projects and different supervisors. it's really helped me to become a lifelong learner."
Emily has recently started a new role as an environmental scientist with Dillon Consulting in Fredericton, N.B. "This career path is exactly what I would like it to be and I feel so fortunate," she says.
Her thesis, Spatio-Temporal Polycyclic Aromatic Hydrocarbon (PAH) Characterization and Assessment in Small Craft Harbour Sediments in Nova Scotia, is available through DalSpace.