News
»
Go to news main
Seeking community support for Sable Islands Vulnerable Ecosystems
Posted by
Nicole Maunsell
on March 1, 2019 in
Research

Andrew Medeiros with Dal's School for Resource and Environmental Studies, at work on Sable Island (provided photos).
When Andrew Medeiros saw an opportunity to partner with Parks Canada to study Sable Island's ecosystems, he knew he had to make it happen.
Research in such a vulnerable and remote area is difficult to coordinate, but Dr. Medeiros, an assistant professor in Dal's School for Resource and Environmental Studies and the College of Sustainability, learned that Parks Canada could manage the logistics — he'd just have to find funding for student researchers. Dr. Medeiros decided to get creative and seek community support with the assistance of the Fathom Fund pioneered by the Marine Environmental Observation Prediction and Response Network (MEOPAR).

"It's an experimental way to raise research funds," he says. "We're the guinea pig. This is only the second project supported by MEOPAR through its crowdfunding program."

Understanding the past can help preserve Sable Island
The project will study the lakes of Sable Island National Park Reserve to understand how the island's interconnected ecosystems are changing, and how it's affected by things like current climate conditions, salt water intrusion, erosion and the species that live there, including the seals and horses the area is known for.

Dr. Medeiros's research will help Parks Canada understand how the area has changed over time and what it will become. Most importantly, it will help predict how long it can last, and how to preserve it. "If those lakes disappear, Sable Island as we know it disappears," he says.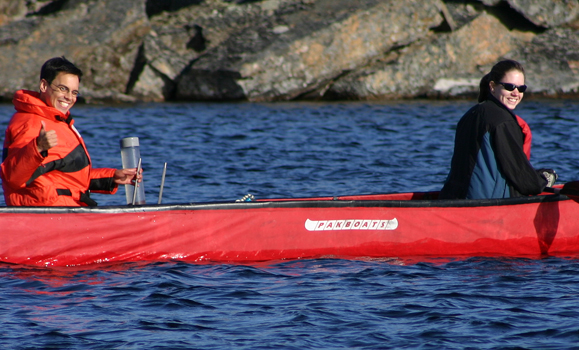 Using an approach called paleolimnology, Dr. Medeiros analyzes lake sediment to learn about freshwater ecosystems.

"Lakes can act as storybooks of the past, and the information contained can be used to calibrate our projections for the future," he explains. Dr. Medeiros has used this approach in his research with Northern peoples on fresh water in the Canadian Arctic, including a recently published study that predicts Iqaluit will run out of fresh water in five years without immediate mitigation.

Funding a meaningful work experience
Dr. Medeiros thinks that working with Parks Canada on Sable Island will give students a meaningful research experience. "Their work can actually support decision-making and help Parks Canada protect the ecological integrity of the area," he says. "Students come to Dalhousie because they want to change the world. I want to help them do that."

Hehopes the campaign will appeal to people who support "science-based decision-making." He also hopes it will raise public awareness and help Canadians understand why monitoring and protecting Sable Island is so important. "If it's successful, we'd be an ongoing partner with Sable Island. We're not asking for a lot of money, but it has a lot of meaning."

You can support the student researchers by donating through projectDal. All donations will support the two student researchers Medeiros wants to recruit. Each $1.00 donated will be matched with $3.00 from the Fathom Fund, a new funding initiative that asks Canadians to decide which marine research projects are most important to them.