News
»
Go to news main
"Environmental impact assessment is about people"
Posted by
Erin Elaine Casey
on March 28, 2018 in
News


L-R: Dr. Tony Walker, Dr. Peter Duinker and Aaron MacKinnon MES

It's not every day a master's thesis turns into a book, but that's exactly what just happened for Aaron MacKinnon, a recent graduate of the Master of Environmental Studies program. In fact, it's so unusual that of the more than 420 theses generated by graduate students in the School for Resource and Environmental Studies (SRES), MacKinnon's is the only one to be published as a book.
MacKinnon graduated in May 2017, and just a few short months later, in early 2018, he celebrated the official launch of The Application of Science in Environmental Impact Assessment. The book, co-authored with thesis supervisor Dr. Peter Duinker and committee member Dr. Tony Walker, maps the history of how science is used in the practice of environmental impact assessment (EIA) and provides a conceptual and technical overview of scientific developments in EIA since the early 1970s. It's part of the Routledge Focus on Environment and Sustainability series.
EIA refers to the process of assessing the environmental impact of major infrastructure projects. New roads or highways, mines, hydroelectric facilities, transmission lines, quarries, airports, pipelines, rail lines, and offshore oil and gas projects—anything with a big footprint—requires an EIA.
"EIA has three essential domains," explains Duinker, Professor and Acting Director of SRES. These include the scientific component; the administrative or legal side, meaning government; and the political side, meaning the stakeholders and public who influence how a development goes forward. "All three have to work together to make an EIA successful."
MacKinnon was asked to follow up on An Ecological Framework for Environmental Impact Assessment in Canada, a report Duinker and Gordon Beanlands had worked on in the 1980s. The goal was to investigate how the environmental assessment community was thinking about and doing science, and see if it had improved or changed. "We wanted to compile and synthesize the broad range of information and knowledge about science and EIA, because it can be very fragmented and people may only see their own individual aspect of the process," says MacKinnon. "It's also a chronological and historical account of how those ideas, tools, techniques and protocols have changed over the last 40 years or so—or how they haven't changed. We were hoping to help readers think about how science could be done better in EIA."
And who exactly are these readers? An international audience of academics and students, as well as practitioners who carry out EIAs, is already downloading and ordering the book. "EIA process and theory are the same the world over," explains Walker, Assistant Professor in the SRES. "Since EIA has been around for more than 40 years, the advancement of science has taken a very steep trajectory, so there are many more tools available, and it's good for practitioners to use the best science available."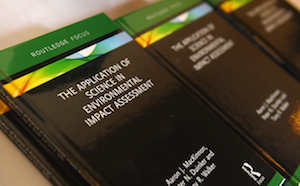 Duinker's hope is that this book will support better collaboration between scientists on the inside of EIA—practitioners and consultants carrying out assessments—and scientists on the outside—researchers and academics. "We think the relationships between those two communities are not as strong as they should and could be," he says. "And then we need the participatory side: citizen science, open data, inclusive research, which sees everyone who participates in an EIA as able to make a contribution to the science. In particular Indigenous peoples, to whom we attribute a traditional knowledge set which that is complementary to the science we do in the west."
Walker agrees. "Collaboration is key. Sometimes EIAs can be driven by process, timelines and corporations. The interests of smaller minority communities, organisms and species that don't have a voice need to be incorporated. Representatives from conservation groups should come to the table and have their say, and I want some weight to their arguments."
Reflecting on the last few years, MacKinnon sees how all the things he's passionate about came together in this one, admittedly huge, undertaking. At more than 50,000 words and with 800 references, the thesis was a labour of love. "I was always interested in EIA, but I just didn't know it. It has all the pieces: environment, and ecology, and humans, and development, and society. It's synthetic and transdisciplinary. It's become a passion of mine."
The three authors have formed a bit of a mutual admiration society. "Peter Duinker was the perfect supervisor for the subject matter. He's got a reputation in the field, the profile, the knowledge," says MacKinnon, "and Tony brought a lot of practical knowledge and experience to the table."
Walker describes MacKinnon as "an A+ student. I knew he was a clear articulator, but I had no idea he would put together a book that was breathtaking. This guy was brilliant!" Duinker echoes this, saying, "He did such an amazingly thorough job, and wrote with such confidence and rhetorically powerful prose." Both faculty members have signed any and all book royalties over to their star student.
What's next for Aaron MacKinnon? Today, he's working with conservation NGO Clean Annapolis River Project, leading wetland enhancement and restoration. He may pursue a PhD, academic career, consulting or continue working in conservation. For now, he's happy to leave the possibilities open.
"When it comes down to it," he says, "environmental impact assessment is about people. Sustainable development and sustainability are more relevant than ever today. We see growing public demands for companies and governments and individuals to act responsibly and sustainably. We're going to have big developments happening, and EIA is critical. It's one piece of that puzzle. We still need new technologies for cleaner energy, but the decision-making part of the puzzle is really important. So EIA tools should be robust, defensible and relevant."