News
»
Go to news main
Communicating climate change
Posted by
Nicole Maunsell
on May 29, 2017 in
News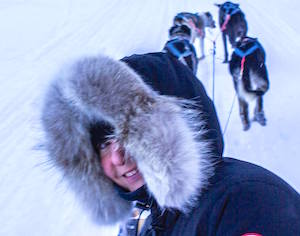 Before starting the Master of Resource and Environmental Management (MREM) program at Dal, Lisa Ratte was on track for a corporate career in the construction industry. Despite loving the lifestyle that her job allowed (including freedom to travel), she felt a pull to shift her career to a field focused on managing resources sustainably and conserving biodiversity. She quit her job and moved to Halifax, choosing Dalhousie because she wanted a program that offered diverse subject matter, so she could sample from a broad spectrum of topics and decide where she wanted to focus. Now she's headed for a career in environmental education, living in Yellowknife, and working on climate change issues with the Government of the Northwest Territories (GNWT).
At Dal, Ratte found a community of like-minded people. "I loved sitting with friends under the trees on the grassy patch in front of the SUB, enjoying delicious vegetarian food from the Loaded Ladle," she says. She found that she got to know her fellow students and her professors well in the tight-knit MREM cohort. "The camaraderie of my classmates was fantastic; everyone was such a wonderful support for one another." One of her favourite things was participating in class discussions, and she advises new students to ask lots of questions: "There is so much to be learned from our amazing professors and the guest speakers they invite. I turned off my phone and laptop and found that I could take in so much more."
MREM students complete an internship in the summer between their first and second year of courses and, like many graduates, Ratte's internship led to employment with the same organization. Last summer, she worked as a project assessment analyst assistant at GNWT, reviewing and providing feedback on management and land use plans, and compiling Crown Aboriginal consultation information for projects undergoing environmental assessments. As soon as her final coursework was finished, Ratte was back in Yellowknife, this time with a focus on climate change, delivering workshops focused on environmental education and citizen science. Her favourite thing so far has been coordinating NASA's Earth to Sky course, which teaches communication skills to participants so that they can educate communities about climate change.
In the long term, Ratte sees that she'll be able to use her education and experience to help people make informed and responsible decisions for environmental change. She hopes to continue in the environmental education field and plans to "implement and evaluate programs that encourage people to adopt healthy and sustainable behaviours in their lifestyles and consumer choices."