News
»
Go to news main
SRES graduates celebrate their first harvest with FOUND
Posted by
Miriam Breslow
on January 12, 2017 in
News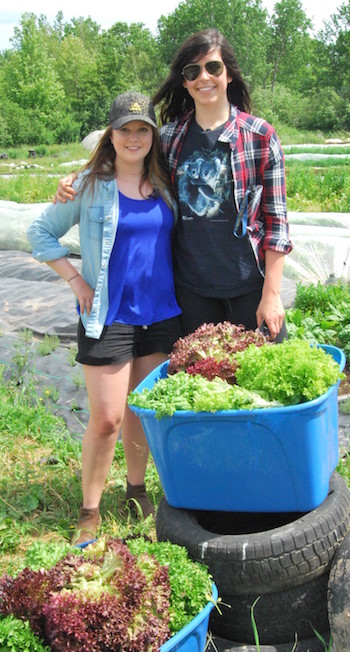 Lindsay Clowes and Laurel Schut (pictured, L & R) hadn't even graduated from the Master of Environmental Studies program when they dug into an ambitious initiative. "We defended within two days of each other in April 2016 and officially graduated in October 2016," says Schut. But in May, the two launched FOUND, an organization that harvests and donates what they refer to as "forgotten" food.
Both women's backgrounds led them to this project. Schut drew inspiration from outside academia: before moving to Halifax from Ontario, she says, she volunteered with Hidden Harvest Ottawa, a "fruit-sharing social business enterprise" in which volunteers pick fruit and nuts from around the city that would otherwise be wasted. "I was surprised that nothing similar existed in Halifax," says Schut.
In the School for Resource and Environmental Studies (SRES), both Schut and Clowes completed thesis work related to agriculture: Clowes examined agricultural land use planning in King's County, Nova Scotia, and Schut looked at the effects of pollination from kept or wild bees on agricultural production. While neither thesis was directly related to food waste, both exposed the students to it. "During the course of our research projects, we saw considerable food waste in the agricultural sector," explains Schut. This led them to hatch an initiative similar to Hidden Harvest, "but we decided to expand the idea from just harvesting local fruit trees to include connecting with farmers, farmers' markets and local residents who have their own gardens," she says.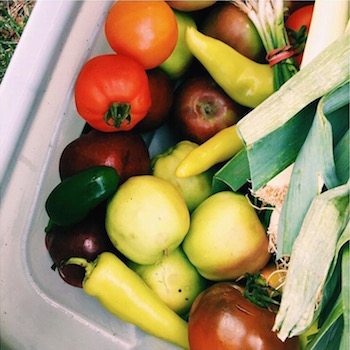 By the time Clowes and Schut defended their theses, they were ready to act on their plan to save food and benefit others. They started FOUND as an organization to harvest food that would otherwise be wasted. Schut and Clowes—and now a few more team members—collect food left behind due to the inefficiencies of mechanical harvesters or to low demand, or unsold produce that is thrown away because of its short shelf life. "We just completed our first harvest season," says Schut, "collecting 3,242 pounds of local, fresh produce that would otherwise have gone to waste." They donated this food to community groups including shelters and food banks.
If there is produce left after their donations, FOUND offers it wholesale to local restaurants, and any still remaining food is preserved to make it shelf-stable. The preserves can then be sold at local markets and stores.
The two women are overwhelmed at the support they've received for their organization. "What started as a pet project we thought we could develop slowly quickly exploded as the community became very engaged," Schut says. She and Clowes are now co-directors of FOUND. The organization has four other core members, including Dirk Xanthos, another SRES graduate, and two more are scheduled to join in 2017. FOUND also has a solid force of approximately 80 volunteers who help to harvest and preserve the forgotten produce.
FOUND has also grown in terms of reach: "We've made connections and shared programming with many other community groups and stakeholders," says Schut, "including FEED Nova Scotia, the Halifax Public Libraries, Fusion HFX, Dalhousie's College of Sustainability and many environmentally minded small local businesses." Among FOUND's growing list of partners is Dalhousie's Faculty of Management, where the idea for the organization began. Schut notes too that FOUND has garnered media attention: the organization has been featured by numerous outlets including CBC, CTV, Global, The Coast and Metro.
Even though Clowes and Schut hold other jobs, they continue to log hours with FOUND. (Clowes runs Sprout Marketing, building online communities for small business; Schut coordinates tutorials in the College of Sustainability and teaches yoga and other classes across the city.) "No two weeks look the same for us at FOUND but, on average, we each commit approximately 10 hours a week," says Schut. With their first harvest under their belts and growing support, Clowes and Schut are looking forward to what's next for their pet project. FOUND has exceeded their expectations, says Schut—"and we haven't even hit the one-year mark yet!"