News
»
Go to news main
Following her inner voice: "you've got this"
Posted by
Nicole Maunsell
on May 23, 2017 in
News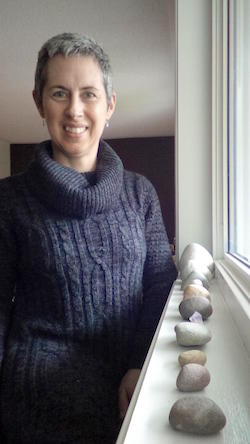 Adèle Poirier has spent most of her 18-year career in provincial government working in communications for various departments, which has given her a "big picture view of government and an appreciation for the connections and complexities." She was able to learn a lot about a variety of issues and meet people at all levels of government. When Poirier decided that she wanted a more specialized role that would allow her to dig deeper into a single policy area, she chose the Master of Public Administration (Management) program at the Centre for Advanced Management Education at Dal to upgrade her educational credentials. For the last four years, she's been studying part-time while continuing to work, thanks to CFAME's blended/online learning model, in which students take virtual classes and then meet at the end of each semester for a three-day in-person intensive to solidify the term's learning and connect in person with classmates and professors. 
The intensives, which include exams, presentations and in-class discussions with people you might be meeting face-to-face for the first time, can be intimidating, but Poirier found that her confidence increased after the first one. "I'd arrived feeling nervous, not knowing what to expect. That changed over the three days. As I walked down the hall for a break during the exam, I was grinning from ear to ear with a little voice inside me saying, 'You've got this.' That confidence only grew over the course of the program."
Studying while working is always a tricky balance, and Poirier created a disciplined routine. "It involved getting up at 5 a.m. to read (with a BIG cup of coffee)," she says, "doing a lot of reading on my bus commute, and doing most writing on weekends. I kept evenings mostly free for mindless activities like the gym and Netflix." Her dedication paid off, and she was able to bring what she was learning to her job immediately: "The greatest benefit of doing the program while working was access to real-life examples and public servants who generously shared their time and expertise to help me learn. The program has deepened my understanding of government's complexities, particularly through the examination of shifts in public management over the years. "She also experienced "intangible" effects "related to my strategic thinking and looking at things in a new light." 
It's been a long journey, but Poirier stayed focused and measured her progress in small increments: "I collected a stone for each course completed and lined them up on my windowsill as a visual reminder of steady progress." After a trip to France to celebrate, Poirier is eager to move on to the next objective. No matter which policy issue she ends up specializing in ("I'm not concerned about which one, there are interesting things to work on everywhere"), being an avid learner means she's poised to make the most of a new role. "My brain has been lit up like a Christmas tree for the time it took to complete this program. I knew I needed that stimulation, but didn't realize how much until I got into it. My challenge now is to find other means of keeping the sparks flying in my brain."