»
Go to news main
Dr. Louise Spiteri, first woman chair of Senate in nearly 30 years
Posted by
SIM
on September 16, 2021 in
News
Re-posted from Dal News: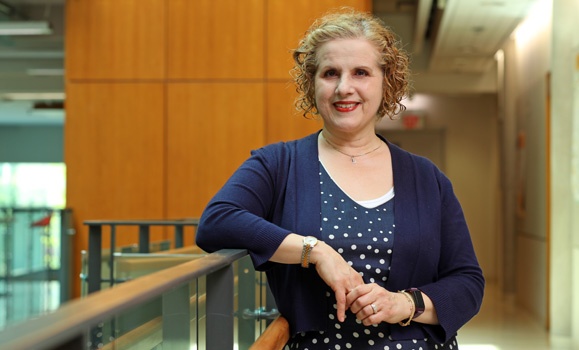 (Credit: Nick Pearce)
As Dalhousie's top academic governing body swings into action again after a short summer break, it does so with a new interim chair — the first woman to occupy the top Senate role in nearly 30 years. Louise Spiteri, a professor in the School of Information Management, steps into the position after several years of active service in Senate that included a year as interim vice-chair of academic programs (2020-2021). As interim chair, Dr. Spiteri will provide general oversight of the business of Senate (including regular meetings), serve as chair of the Governance and Planning committee and sit on Dal's Board of Governors — the university's other governing body.
Dr. Spiteri sat down with Dal News recently to discuss a bit about her path to Senate, what motivates her and her priorities for Senate in the months ahead.
You've been a member of Senate since 2015. What motivated you to join initially?
I've always had a real interest in governance. I've been in academia for half my life. I started my work life as a high school teacher, and so I've always been heavily invested in education and curriculum design. I've also served in a number of scholarly associations on the governance committees and have a keen interest in academic governance.
I'm not a person who likes to sit by the sidelines. I do believe that we have an obligation as members of the academy to contribute to the governance of the university. I felt this was a really good opportunity when the call came out. It's very much an interest in governance and having a voice in the way that programs are designed. With a bicameral system of governance, I think it's very important for Senate to have a strong voice and it's a good partnership with the Board of Governors as well.

How has Senate changed during the years in which you've been active and are there areas for further growth that you'd like to champion?
The most obvious change to Senate has been in size. It has grown significantly. We are over 90 senators now. I think that was a very important move because it expanded the scope of Senate to make it more diverse and inclusive. We have a greater representation from the different constituents on campus, including part-time faculty. I think it also means that the decisions that Senate makes represent better the academy. It's a bigger voice and the more perspectives you have, the richer the end product. I think that's been a very positive move.
I've seen a lot of growth. We have a long way to go, but we have become more diverse. I think Senate better represents the diversity of the members of Dalhousie now than it did when I first started. That's partly to do with the size of Senate, but it's also because [former chair] Kevin Hewitt did such an amazing job of emphasizing the EDIA (equity, diversity, inclusion and accessibility) lens in Senate. I give full credit to him for all the work he's done there. As a result, we've become a richer and more diverse voice.
With a larger Senate, there are other things you have to deal with. Because you have a diversity of voices, it does mean that sometimes discussions take a little longer. That's actually a good thing. You are getting these points of view. And increasingly there is a growing awareness of  the important role that Senate has to play in the governance of the university. We've seen so many changes to academic programs and new degree programs coming in. Part of what we are focusing on in Senate is to ensure that the governance model is robust, but also flexible: It can adapt to change quickly. As the world moves forward, academic programs need to be able to adjust rapidly and I think universities have not always been quick to change because there are a lot of levels of approval. I think part of what we want to do is make the governance model of Senate be very robust and increase other points of view, but also to make it as streamlined as possible to enable programs to develop, modify and grow.
As interim chair, you'll be providing general oversight of the business of Senate including meetings and serve as chair of the Governance and Planning committee. How would your Senate colleagues describe your management style?
I'm often known as the governance person in Senate because I do have a fondness for parliamentary rules and I have worked very closely with a parliamentarian. I see my role as facilitating the discussion. My job is to ensure that the business at hand is conducted in as efficient a way as possible as we do need to get through the business of the day, but to also ensure that people's viewpoints are heard and that people have an opportunity to speak and give their opinion on the matter at hand. And to make sure that people feel comfortable and welcome in providing their feedback and discussion. My job really as chair is moderator.
With regard to my leadership style, I'm a very results-oriented person and goal driven. I like to get things done. Having a perspective of opinions is useful because I think it allows you to see different aspects of a problem that you may not even have thought about. For me, it's very important to get that diversity of opinions, which eventually leads us to whatever decision is important.
I'm a very organized person and very good at managing projects. I think that's important when you are trying to juggle various aspects of Senate. I think having that ability to manage a lot of information and data coming at you is a real strong point that I bring to the position. I also use IT a great deal. I love technology, and I'm always finding more efficient ways to do our job better.
Disagreements arise in Senate. What are some of the ways you see to work through those difficult moments to ensure effective outcomes?
There's a whole spectrum of things you can do. I think what's really important, particularly when it's a large assembly, is striking an atmosphere of civility in discussion. We all need to be civil and respectful and as much as possible to not take things personally. The whole point is you can agree or disagree with somebody, it's not personal. It adds to the robustness of the conversation. One of the things we have done is hold an orientation session for Senators. And it's important to do that when you have a new chair as people have different styles and you have to adjust to different styles. We'll go over the basics of good governance in a meeting and what the proper procedures are for bringing forward a motion, for example. The idea really is to keep things focused on the discussion.
Sometimes the discussion can get a little bit off topic. That's a normal thing to happen, so part of the chair's job is to explain to people that in the spirit of fairness we need to make sure that we stick to the business at hand. It's important to moderate a discussion to make sure that it is going smoothly and that people have an opportunity to speak and to ensure that no one person dominates that discussion, as this would go against the principles of  collegial discussion.
What are you most looking forward to about taking on the role?
I have wonderful colleagues in the Secretariat, and I've had the opportunity to work with them now for a few years. There are a lot of people behind the scenes. I am just one person among a whole team of people doing incredible work. This is very much a team effort.
I am a problem solver, and chair of Senate gives me a really good opportunity to have a much broader view of all the various aspects of Senate. Sometimes when you are a Senator and you are on a standing committee, you see it through that particular lens. That's normal. What's good about being chair is it allows me to see the situation from a much broader lens. It's a more holistic view of what Senate is doing. Also, I'm looking forward to working more closely with Provost Frank Harvey and Dal President Deep Saini, both of whom have been extremely gracious and welcoming. I look forward also to serving on the Board of Governors. This gives me a really good opportunity to look at governance from the Board's perspective.
If you were to leave academia and go into another career, what would you choose?
Law. When I was a child at a very early age, that was my goal — to be a lawyer. If I were to go into another career , it would be environmental law because I consider myself an environmentalist and I've been living a sustainable lifestyle for decades.
The other thing, if we want to get whimsical, is a professional chef. Cooking is my creative outlet. Or thirdly, an opera singer.