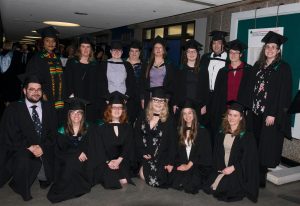 From SIM Director, Dr. Sandra Toze:
The School of Information Management would like to congratulate all of our newest MLIS & MIM graduates! It was an eventful few days with a reception hosted by the Faculty of Management Monday night, followed by our breakfast and awards ceremony Tuesday, and finally the formal convocation ceremony and reception that afternoon. As was highlighted at our morning event, our students are impressive, and it was wonderful to meet and celebrate your achievements with your friends and families.  We extend our best wishes to those graduates who were not able to attend.
To celebrate Dal's 200th anniversary all graduates received a Dal 200 pin, and a beautiful commemorative book.
We encourage you to read this wonderful profile about our MLIS graduate Brian Lesser produced by Nicole Maunsell in the Dean's Office, Faculty of Management.
We welcome all our new graduates to the SIM alumni family, look forward to hearing about your successes and supporting you in your ongoing careers. Please continue to communicate with us via LinkedIn, Facebook, Twitter (@dalsimnews), and this blog. You are all now members of our SIM Associated Alumni, and we look forward to seeing you at Alumni events.
Special thanks also to our Award sponsors including APLA, NSLA, SLA, the Vagianos and Harrison families and our alumni. And special congratulations to the 2018 convocation award winners (see full list below).
Well done, Class of 2018. We are very proud of all of you!
–  Dr. Sandra Toze
2018 SIM Convocation Award Winners
Anne Galler Award (Special Libraries Association, Eastern Canada Chapter): Rebecca Shaw
Atlantic Provinces Library Association Award: Margaret Vail
MLIS Director's Award: Alison Brown
MIM Director's Award: Sean Hofstetter
Information Technology Leadership Award: Alicia Whidden
SIM Leadership Award: Lindsay Warner
Louis Vagianos Medal: Brian Lesser
Nova Scotia Library Association (NSLA) / SIM Graduate Award: Christine Cousins & Adrienne Colborne
SIM Research Award (MLIS): Alison Brown
SIM Research Award (MIM): JoAnne Akerboom & Monty Price
SIMSA Outstanding Service Award: Rebekah Prette
Beta Phi Mu Candidates: Alison Brown, Brian Lesser, Kim Mortimer, Rebekah Prette, & Rebecca Shaw