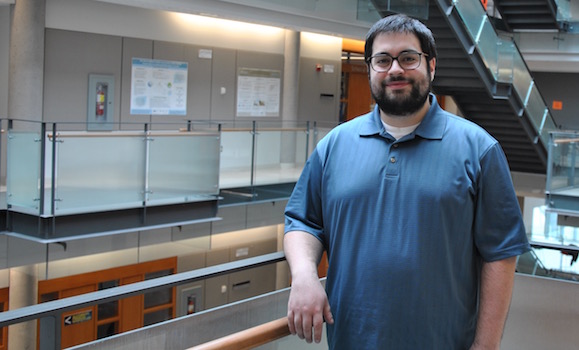 Brian Lesser works as an instructional systems administrator, managing support and training for Brightspace, Dal's learning management system. He's also been attending classes for the past three years to complete a Master of Library and Information Studies. "It fit well with my current job," he says, "and it opens the door to new opportunities."
It might not seem like the most obvious choice, but Brian points out that what he does has a lot in common with the job of a traditional librarian working at a reference desk: connecting people with information.
In Brian's case, that means making sure students can access course readings, practice quizzes and discussions, and that instructors have the resources they need to support their students. He takes the responsibility seriously.
"My job seems like it should be a technical job, but it's more about supporting people, working with vendors, configuring settings so that they're usable. This degree has helped me bridge the technical background. It's helped me figure out how to be a people person."
Unusually, Dal's learning management department is housed in the library (at most universities in Canada, you would find it in the IT department). The difference, he says, makes for a greater focus on service. That's what connects his studies to his work.
"The focus throughout all of the MLIS courses is service: knowing your people. It doesn't matter whether it's a literacy program or a library service or a help desk; no matter what service you're providing, step one is understanding your community."
His Managing Research Data course put him face to face with a community in need of information management guidance. His professor, Mike Smit, connected his students with researchers at Dal who want to make the data they are collecting more organized and easy to share with other researchers.
It's a practice that's becoming more important as data-capturing technology becomes more advanced. Researchers are able to collect vast quantities of data that could be relevant far beyond the scope of their own work and have potential for collaboration and cost-saving. But unless they take steps to organize and describe what they're collecting, it isn't useful to anyone else. The students in Smit's class interviewed researchers and made recommendations.
"It's something researchers know is coming, they have to start thinking about this," Brian says. "A lot of times researchers think they'll be starting from scratch, but a lot of it is just minor tweaks to their process. In the end, they were immensely thankful that we were there to get them thinking about these questions."
Brian might be graduating, but he's not giving up the university community he's come to know so well anytime soon. His degree means he's now more qualified to move to a management position but he hopes to stay in the academic world. "It's the energy. In September every year—it's exciting."