The report "Social License to Operate" was released on January 31st. Dr. Vivian Howard (SIM Associate Professor & Associate Dean-Academic for the Faculty of Management) was the lead author on the report. MLIS student (and Institutional Analyst with Dalhousie Analytics), Tyler Lightfoot, was also part of the team. This report will be published annually.
From the Executive Summary:
SLO captures whether a company operating in a particular location has the approval of the local community. In October 2017, a bilingual on-line survey was sent to a sample of Canadians aged 18 and over. We asked Canadians about the sub-components of the SLO — trustworthiness, social responsibility, environmental responsibility, and ethical practices — in relation to national transportation providers, food retailers, clothing retailers, and government departments. Participants also had the opportunity to evaluate local organizations. We received 1641 completed replies that were drawn from every province and territory. To our knowledge, this is the first survey of this kind conducted in Canada.
From Dr. Howard:
"It was our first time working on something like this, and we quite enjoyed it…I think we're uniquely positioned in the Faculty of Management to do this kind of study, because we have the right combination of people from our different schools. It made social licensing such an obvious choice."
Congrats to the entire team! You can download the full report here, and read more details on Dal News here.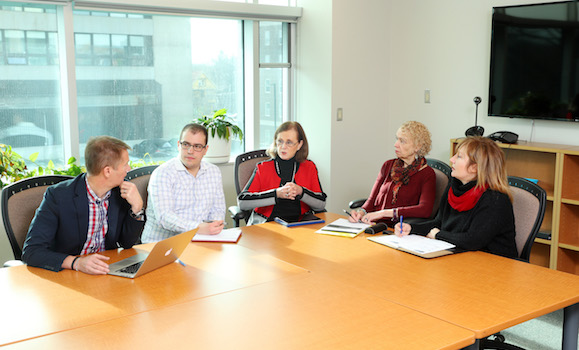 [photo credit: Nick Pearce]