MLIS student, Becky Shaw, is profiled in Dal News today. 
Sample from Dal News (read the full story here):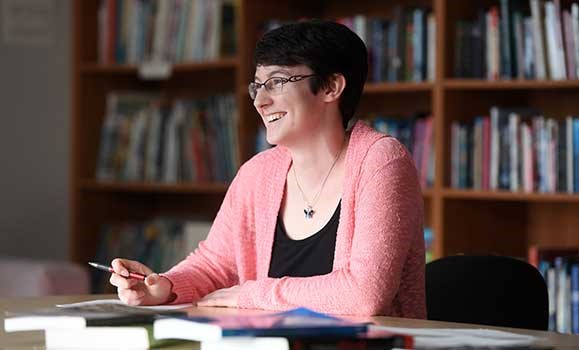 Pursuing two master's degrees at once would be a daunting task for most, but it was the clear choice for Becky Shaw.

Concurrently completing a Master of Library & Information Studies (MLIS) and a Master of Arts (MA) in Musicology has allowed Becky to combine her two passions: information management and music. These interests were developed through teen jobs in a public library and municipal archives, and piano and guitar training from age six.

"My family is very musical," says Becky. "My father taught us guitar, my sister is now a classical guitarist, luthier and teacher, and I specialized in guitar during my Bachelor of Music studies. Information management and music were always career possibilities, but my original intent was to complete one degree at a time."

Finding the connections

Then in May 2016, when presenting at the Music Encoding Conference in Montreal, Becky fully realized for the first time how interconnected musicology and information management could be.
She also met Jennifer Bain (associate professor, Fountain School of Performing Arts), who invited Becky to be her research assistant on the Cantus Database while studying at Dalhousie. Cantus is a searchable digital archive of Latin chants found in over 140 manuscripts and early printed books. The archive holds primarily inventories of "antiphoners" (which incorporate responsive choral singing split into two parts) and "breviaries" (books of prayers, hymns, psalms and readings) from medieval Europe.