»
Go to news main
My Conference Experience: International Association of Aquatic & Marine Science Librarians & Info Centers
By Diana Castillo (MLIS '18)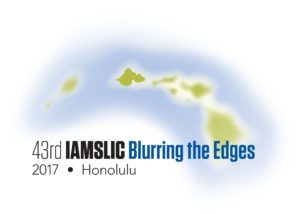 At the end of October, I was lucky enough to attend the annual International Association of Aquatic and Marine Science Libraries and Information Centers (IAMSLIC) conference held in Honolulu. I was there to present some preliminary findings from my thesis project (Meeting Information Needs through Innovation: A Case Study of the Use of the International Aquatic Sciences and Fisheries Abstracts Database – see abstract below) examining the use of the Aquatic Sciences and Fisheries Abstracts database.
A key theme of the conference was rethinking how we approach problems and how best to communicate our stories. The idea was to encourage attendees to re-conceptualize how they approach problems, work to articulate goals and how to achieve them, and become more effective advocates for libraries. The conference encouraged attendees to tap into their creative sides, with sessions on puppet making and storytelling, which was a fun way to think outside the box. The keynote speakers also encouraged attendees to rethink certain assumptions they might have, specifically focusing on gender and cultural competency.
The conference finished by hosting a round-table discussion about the future of marine science librarians. While I wasn't initially on the panel, I was roped in as the only student in attendance. It was interesting to hear what the other panelists viewed as the future of the profession (data management was mentioned a lot), and to listen to what they found to be the most valuable experiences while in school.
Overall, I found the conference to be a fantastic experience. The community was incredibly welcoming and helped me gain a sense of what my future may hold if I decide to go into this field. For other students, if you see a chance to attend a conference in a field you're interested in, I highly recommend you take it.
Abstract (Diana's thesis project):
A significant hallmark of today's society is the large quantity of scientific information about oceans available to researchers and decision-makers in a wide diversity of formats. Although much information is easily accessible, sizeable volumes may be unknown or limited in access despite benefiting stakeholder communities. The ASFA database is an access point for a large amount of grey literature. Due to the rapidly changing information landscape, the future of ASFA in its present form is being reconsidered. This paper will report on research, pursued in collaboration with FAO, to determine how ASFA is currently accessed and used. The initial results from the research will be presented, along with preliminary discussion of how the service might evolve in the changing information landscape.