»
Go to news main
MLIS Students Present Their Research at Right to Know Symposium
On September 28th, 2017, SIM co-hosted a one-day symposium (with Dalhousie Libraries and Libary & Archives Canada) entitled "Right to Know: Balancing Access & Privacy".
Three MLIS students presented their research at this event. Read more about their fascinating projects below:
Nicole Dalrymple
As the Dalhousie University Archives intern, my research involved archival discovery and organization of information relating to Dalhousie's 200th anniversary initiatives. This was done as part of the 2017 Co-lab project. First, we were responsible for creating biographical sketches and historical blurbs about people, buildings and events important to Dalhousie's history as part of a digital exhibit launching this year. I am now in the process of putting those blurbs in our AtoM database as authority records, which allows users to see archival records about the topic, as well as relations linked to the topic. Next, we found information pertaining to Dalhousie's faculties, including key dates, people, and relevant resources. These were organized in the History of Dalhousie Libguide for easier discovery. Finally, we worked on a social media calendar detailing an "on this day in…" fact for every day of 2018. Each fact will come with a digital object from the Archives, including photographs and posters. The goal of this research was to provide a pro-active, preventative approach to accessing archival materials. We want to ensure that our resources can be easily accessed and are well promoted ahead of the 200th anniversary

Alison Brown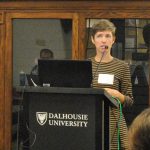 I shared some findings from my MLIS thesis research that explored how access to participation in a read aloud program affected the lives of families experiencing maternal incarceration. The Mother-Child Read Aloud Programis offered to federally incarcerated women at Nova Institution for Women in Truro, NS. At each session, women select books for their children and record themselves reading the stories aloud. The recordings and books are then sent to their families. During my research, I spoke with six program participants and read 94 letters written by their children and children's caregivers. Analysis of those interviews and letters revealed important outcomes of participation: meaningful contact and stronger relationships; improved sense of self-worth, focus, and positive identity for women; increased self-esteem and confidence for children; deeper interest in reading; and strengthened resilience. Eager to place the experiences and perspectives of criminalized women at the foreground, I shared direct quotes from the research participants. From one mother, "I haven't seen my son walk. I haven't seen him talk. I have heard little tiny bits on the phone but not often… This program lets me maintain that relationship, help him to still know my voice, to tie a book and an audio recording to me and him together."
Scarlett Kelly
Information is a concept that crosses various disciplines, so research on information related topics requires knowledge and skills that connect across them all. This presentation drew from my research experience and reflection this summer. With the support of Mitacs Globalink Research Award, I conducted research on information creation behaviour in Rennes, France. At the LACODAM team at Inria, I developed a communication model between data miners and domain users in order to increase the recognition and acceptance of interesting findings. From the research process, challenges, and benefits, I developed a new understanding of how to apply interdisciplinary information skills into research.