»
Go to news main
Three SIM Faculty Receive University‑Wide Teaching Awards
Posted by
SIM
on June 15, 2017 in
News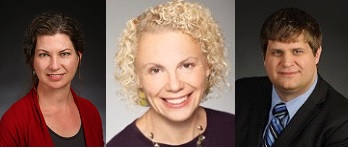 Three SIM faculty have been recognized with University-Wide Teaching Awards for their outstanding commitment to teaching and learning at Dalhousie University. Read the full announcement here.
Jennifer Grek Martin (MLIS '11) received the Contract and Limited-term Faculty Award for Excellence in Teaching: "A lecturer in the School of Information Management, Jennifer Grek Martin is receiving Dal's award celebrating teaching from contract and limited-term faculty. The selection committee was impressed by Dr. Martin's breadth of teaching experience with positive student and peer feedback, as well as her commitment with curriculum design and creative learning. 'In a short period of time,' the committee writes, '[Grek Martin has] built an outstanding portfolio and has demonstrated evidence of leadership beyond the expectations of contract and limited-term faculty.'"
Dr. Mike Smit received the Early Career Faculty Award of Excellence for Teaching: "An Associate Professor in the School of Information Management, Mike Smit is this year's recipient of Dal's award celebrating exceptional teaching and educational leadership at the onset of one's career. A two-time Dal alumnus (both a bachelor's and master's degree in Computer Science), Dr. Smit was cited by the selection committee for his strong commitment to students, the high standards he sets for learning, and his concern for individual student success. The selection committee writes that the praise and thanks Dr. Smit has received from his students, 'speaks to the impact [his] instruction has had on their education.'"
Dr. Vivian Howard (MLIS '95) received the Alumni Association Award of Excellence for Teaching: "Vivian Howard, this year's recipient of the university's top teaching award, first joined Dal in a full-time role in 1999 as one of the original instructors in the then newly launched Bachelor of Management program. Since then, she has built a reputation as an outstanding teacher and community leader. An associate professor in the School of Information Management, Dr. Howard is being recognized for her scholarly contributions on teaching and learning and for her commitment to community engagement and helping boost retention efforts for international students. She has also provided consistent support for peers across faculties on major initiatives such as the development of the Indigenous Studies minor, which launched in the fall of 2015."
These awards will be formally presented this Fall. We are very proud of our dedicated and passionate faculty here at SIM. Congrats to all!