News
»
Go to news main
Crystal Rose: The 2016 Dal SIM Outstanding Alumni Award winner
From SIMAA Past Chair, Lou Duggan: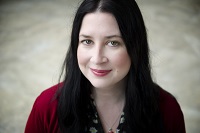 The Associated Alumni would like to congratulate Crystal Rose of Memorial University, winner of the 2016 Dalhousie School of Information Management Outstanding Alumni Award!
Crystal has been working at the Ferriss Hodgett Library, Grenfell Campus, Memorial University of Newfoundland (MUN) since 2008 in the roles of Public Services Librarian, and recently as Acting Associate University Librarian (2013). She also serves as the Harlow Librarian at MUN's Harlow Campus in the UK. Prior to joining MUN, Crystal worked at Toronto Public Library, and the Dalhousie's Kellogg Health Sciences Library.
Crystal has tirelessly served the library profession in many roles, including as APLA President, NLLA President, and the working group for the Canadian Federation of Library Associations. Her organizational talents and energy have been channelled to the organization of many events and conferences, including the 2016 and 2015 APLA Conferences (Halifax, St. John's), the 2013 Community-University Expo (Corner Brook), and the 2011 NLLA Annual Conference (St. John's).
Innovative (and fun) programming has been a hallmark of Crystal's career. She was the impetus behind "Games at the Library" in Atlantic Canada and "happy lamps" at the Ferriss Hodgett Library. Always an early adopter of technology, Crystal brought the first e-readers to MUN, as well as You Tube instructional videos, chat reference, graphic novel collections, and a significant social media presence for the library.
As the many letters of support for this nomination attest, Crystal is truly an outstanding alumnus of SIM. Beckie MacDonald from the Ontario Library association says, "Crystal is very innovative and creative with a vast knowledge of what those in the field need and want for their professional opportunities." Suzanne van den Hoogen from St. Francis Xavier University told the selection committee that, "Crystal is a respected colleague within our community. Her positive outlook and enthusiasm for our profession is both infectious and invigorating!" Kathryn Rose of MUN's QEII Library in St. John's noted that, "she looks for methods to enhance traditional services for her community."
I invite you to join us in congratulating Crystal on her award at the SIMAA Welcome Reception on September 28th, 2016 at the Kenneth C. Rowe Management Building, Rm 3089. An invitation with RSVP will follow