News
»
Go to news main
Q and A with new faculty member Heidi Walsh‑Sampson
Posted by
Rowe School of Business
on September 16, 2021 in
News
Where are you from? What did you do before coming to Dalhousie?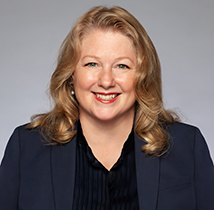 I am originally from Halifax but spent 15 years in Calgary and Vancouver going to university and practicing law. We returned to Nova Scotia in 2007 and I currently live in beautiful Mahone Bay with my family.
I have practiced corporate and securities law for over 20 years in three Canadian jurisdictions. Prior to joining Dalhousie's Office of Commercialization & Industry Engagement in 2018, my practice was primarily focused on the venture capital markets and institutional investment. I have practiced law in a deal-intensive environment advising on capital-raising activities, acquisitions and divestitures. I have represented a wide range of clients including start-ups, private and public companies, syndicate lenders and institutional investors including mutual funds, investment banks and angel investors.  I have also been lead counsel and negotiator on multi-stakeholder projects such as P3 initiatives and mutual fund management contracts.
I have been an adjunct member of faculty at the Sobey School of Business for the past decade. Since 2010, I have regularly taught commercial law, advanced commercial law and enterprise risk management at the undergraduate and graduate level.
What drew you to the Rowe School and Dalhousie?
I was drawn to its focus on innovation in program delivery and its commitment to equity, diversity and inclusion. The Rowe School is part of the long tradition of academic excellence at Dalhousie which I have always admired. In addition to its outstanding international reputation, this university community is a driver for economic change and entrepreneurship in our region and I am thrilled to join this group of thought leaders.
What's something about your field that you're excited to share with students? 
I am most excited to share my passion for the law with my students. After over two decades of practicing law, I am still constantly learning new things about the law that excite me. Whether you believe the law is a tool for managing risk or a tool for advocacy, it is an inescapable part of how we navigate the world around us. The law provides the framework in which we negotiate the terms on how we interact with business, our community and each other. Helping students appreciate the role the law plays in the myriad daily transactions of life excites me.
What are your research and teaching interests?
My research interests include the regulation of capital markets, corporate governance and enterprise risk management. I am especially interested in regulatory initiatives and market mechanisms to mandate good corporate governance and equity, diversity and inclusion in public companies. I am also interested in the application of ERM tools to public sector entities.
Tell us about something you're proud of accomplishing.
I am always proud when a student comes into my classroom because my course is a prerequisite and leaves with a greater appreciation for the practice of law. Some of these students have gone on to law school and I am especially proud to provide references for them.
What's something your new colleagues might be surprised to learn about you? 
My new colleagues might be surprised to learn that my husband and I met through scuba diving. For our honeymoon we travelled to Gansbaai, South Africa, to dive with the great white sharks…on purpose!  
-
Heidi Walsh-Sampson joined the Rowe School as an assistant professor this summer. You can read more about her on her faculty profile page.