News
»
Go to news main
Getting to know your staff: Cassandra Cooper
Posted by
Mallory Rae
on August 6, 2021 in
News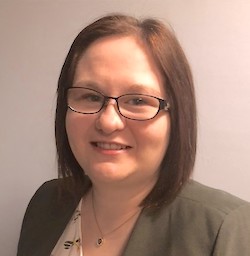 Cassandra Cooper was born and raised in Dartmouth, Nova Scotia, and currently resides in Sidney Crosby's hometown of Cole Harbour. Cassandra began working at Dalhousie in 2019 shortly before the start of the COVID-19 pandemic. Starting as a Program Assistant, she transitioned to working as an Instructional Design Assistant for the Centre for Executive and Graduate Education, and is now an Admissions Coordinator there. While Cassandra hasn't had a lot of time in person at the CEGE offices, her favourite memory of working at Dalhousie so far was during the holiday season before the pandemic when the entire CEGE team went to the movie theatre and spent the afternoon together, "It was nice to be able to spend time with my co-workers in a non-working environment."
Helping people has always been a passion for Cassandra. When she was a child her dream jobs were veterinarian or social worker. In her role as Instructional Design Assistant she enjoyed being able to help faculty, staff and students. "I liked being able to provide a positive experience for faculty and students at the intensives, especially during the uncertainty of the pandemic in the last year and a half." In her current role, she guides applicants through the admissions process, which is especially rewarding because it helps student achieve their goal of being accepted into a master's program at Dalhousie.
Cassandra had been coordinating face-to-face intensives just before the pandemic and when the stay-at-home orders were announced she was a part of the team that moved the intensives to an online environment for the four master's programs administered by CEGE. Despite not being face-to-face with her colleagues for very long, Cassandra says her favourite part of her job at Dal is the team atmosphere in CEGE: "I work with a great team of people who are supportive of each other and are always willing to lend a helping hand."
Outside of work Cassandra loves spending time with friends and family (pictured: puzzle time with niece Isla). Due to COVID restrictions she had to get creative with how to spend time with them over the past year and a half—virtual sushi dinners, using the app Teleparty to watch movies with friends, and joining a podcast club (she likes Science Vs).
Another passion of Cassandra's is animal welfare. She has two rescue cats, Dixie and Alice, and is an administrator of a lost and found pet group in her community. When restrictions allow for volunteers again, a local animal shelter will benefit from Cassandra's time. She also wants to start traveling again when possible. Her top travel destinations are Japan, so that she can experience a completely different culture and try authentic sushi, and Ireland, because her ancestors are from there and she wants to visit the famous Blarney Stone.
Cassandra's advice for any new Dalhousie staff members is, "Explore as many opportunities as you can. Join committees, assist with different projects, attend FoM meetings and register for professional development courses offered through Dalhousie."
 
We hope you know Cassandra better than you did before, which is the intent of this initiative. Other staff profiles are available: Jenna Downey, Anna Jacquart, Viola Caume, Nicole Maunsell, Jonathan Perry, Heather Swinamer, Marianne Hagen and Alex Hurley.
If any staff members would like to participate as an interviewer or interview subject, please email Dipti Periwal at dipti.periwal@dal.ca.