News
»
Go to news main
Getting to know your staff: Heather Swinamer
Posted by
John Cameron
on April 22, 2021 in
News

Our April profile for Getting-to-Know-Your-Staff is Heather Swinamer, Corporate Residency MBA Program Manager at Dalhousie. Thank you, John Cameron, one of the co-op students at the Dean's Office, for interviewing Heather for this profile.
Heather started her journey at Dalhousie in 2007 with part-time contracts at the Law School and the Marine Affairs program. At the time, Marianne Hagen, Program Manager for the MBA office, was looking for a new admissions person. One day, Marianne walked into Heather's office and asked if she was looking for a full-time position. Heather has been working for the MBA office ever since.
Heather has always lived in Nova Scotia but made Halifax her home as an adult. "I grew up in a tiny community called Windsor Forks, which was just outside of Windsor on the Number 14 highway," Heather says. "The kids from town would call us Chester Roaders," a term Heather still wears like a badge of honour.
Throughout her years at Dal, Heather has grown a bit more relaxed and tolerant than she was as a younger, more intense Heather. The most rewarding part of Heather's job is watching the students succeed and she loves hearing their stories when they come back as alumni.
Even before her time at Dal, Heather has always loved Convocation. "I've always found graduations, even from high school, heartwarming, exciting and emotional," Heather says, with a big smile. "To be part of those milestones for people is just so cool." Heather's favourite memory at Dal is giving her own daughter her parchment with Dr. Florizone in 2014.
Outside of work, Heather finds the kitchen to be an oasis. "I love to cook and bake for people and see them enjoy what you're serving them." Recently, Heather has been downsizing her large-scale family recipes to small batches, which she finds to be a fun experiment.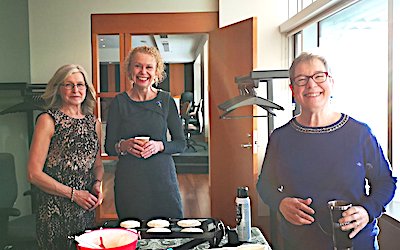 Last year when everyone was still in-office, Heather (left, in picture) helped prepare a pancake breakfast for the faculty in room 3087. "We cooked the pancakes there and blew a fuse in the Dean's suite a couple of times because we had three griddles going," Heather says, laughing. "You can learn such interesting things about people you work with when you share a meal with them." She is patiently waiting for the next time we can do that when we all get back to the office.
When asked what she hopes for 20 years from now, Heather simply hopes that people are nicer to each other. That's all.
We hope you know Heather Swinamer better than you did before, which is the intent of this initiative. If any staff members would like to participate as an interviewer or interview subject, please email dipti.periwal@dal.ca.