News
»
Go to news main
Dal professor receives prestigious publishing award
Posted by
Rowe School of Business
on December 9, 2014 in
Research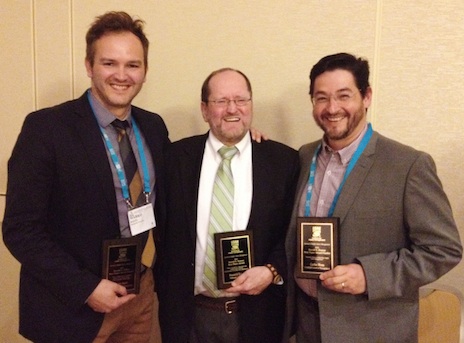 Daniel Lynch (centre) with the second- and third-place Fearon Award winners
Dr. Daniel F. Lynch, Associate Professor and Director, Centre for International Trade & Transportation at Dalhousie University's Rowe School of Business, was awarded the 2013 Harold E. Fearon Best Paper of the Year Award* by the Journal of Supply Chain Management.

This journal is ranked 11th of the top 172 Management journals by ISI Journal Citation Reports© 2013 Rankings, and has an Impact Factor of 3.717.
Dr. Lynch co-authored the article entitled:
"Power Asymmetry, Adaptation and Collaboration in Dyadic Relationships Involving A Powerful Buyer,"(2013) Journal of Supply Chain Management, 49(3), 42-65.
Dr. Lynch was also invited to present an overview of the manuscript and the publishing process at the Academy of Management in August 2014:
Daniel F. Lynch (2014), "Crafting a High Quality Research Paper," Academy of Management, Philadelphia, PA.
Brief abstract of the article:
Buyer–supplier relationships involve dyadic interactions, but there is a dearth of empirical data analysis of these relationships. While relationships with a power balance between partners do exist, relationships typically occur in the context of power asymmetry. This study examines how perceptions of power use and prevailing relationship quality in dyadic relationships characterized by substantial power asymmetry affect behavioral and operational outcomes. Results indicate that power use affects partner behavior and operational performance, but the nature of the relationship dictates which power sources are most appropriate.
*The award is named for Dr. Harold E. Fearon, Emeritus Professor from Arizona State University who founded ASU's Purchasing, Transportation, Operations Department (now Supply Chain Management Department) and served as its first chair. In 1986, he initiated the Center for Advanced Purchasing Studies (now CAPS Research). Fearon began the Journal of Purchasing in 1965 as its first editor, now the Journal of Supply Chain Management.