News
»
Go to news main
Two Bachelor of Commerce graduates on the importance of extra‑curricular activities and people skills
"If I could go through my program again and have a re-do, I would be more involved in clubs, events, social events and things like that," says Noah Crawford-Holland (pictured left with Ziggy). Despite wishing he'd been more involved in extracurricular activities, Noah says he found his niche in finance and economics.
One of this fall's graduates from the Faculty of Management's Bachelor of Commerce program, Noah credits his co-op placements for helping him sharpen that focus. "My first co-op was in marketing with a telecommunications company. It was a really good first co-op because it gave me a broad sense of things, and I was able to get a lot of different exposures, such as market research. But it made me realize marketing was not for me. I like the analysis aspect, working with data and numbers."
He also soon realized that by figuring out what he liked or didn't like through co-ops, he could adjust his course selections to help him develop the right set of skills.
People Skills Matter
One skill set he found particularly important to sharpen was his people skills. "You can learn technical skills," he says, "but doing presentations and working in groups requires communication and collaboration. Those are what help you get a career."
The co-op program was one of the reasons this Toronto native chose Dal. "I wanted to get a degree where I would graduate with a good amount of work experience," says Noah, adding he was also looking for new experiences and liked the east coast lifestyle.
Thanks to the program, he was able to turn a project into a solid part-time job. "In my last year we did a strategy course—it's a year-long course where you do a consulting project for a company. That company hired me after we completed the project to execute the recommendations we made." Noah is also studying for his chartered financial analyst accreditation and will be looking for full-time opportunities when the current job is over.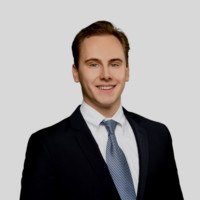 The experience of Conrad Dickinson (pictured right) runs parallel to Noah's, with at least one notable exception.
"My whole family has a commerce/business background," says Conrad, "and I started off thinking I wanted to go into finance. But in my third year, after taking my co-op terms, I realized I was more interested in the marketing side.
"Marketing is a very creative field. It's constantly evolving. It's different now than it was ten years ago and will continue to change. I'm interested in the ability to market a product to a customer and then have a sales team sell it at the end of the day. The content creation piece really interests me."
Like Noah, Conrad also says the co-op program gave him an appreciation for the importance of people skills. "In the classroom, you're concentrating on learning materials and studying the book," he says, "but the workforce is all about collaboration. You have to be good with people. You have to understand your product, your industry and people."
One co-op placement drove that point home: "I was a sales rep, on the phone all day trying to get people's business. You have to know your product inside and out or they won't listen to you. That was difficult, but it encouraged me to learn about the product, and how to deal with people."
Power of Positivity
Conrad put all his marketing skills to use in a real-world project when he created the Dickinson Invitational Charity Golf Tournament in 2022. "I had my own struggles with concussions and mental health and I wanted to give back to the community," says Conrad. "That's what it's all about;, if I can help somebody else in their life that will make me the happiest person in the world. I created this golf tournament in May and was able to get 25 people to come out… We raised close to $4,000 for mental health in support of the Royal Ottawa Hospital Foundation."
With a BComm now next to their names, both Noah and Conrad look back and see how going to Dal will influence them going forward. "I know my strengths and weaknesses and how I fit on a team," says Noah. "I know what kind of opportunities I want to pursue maybe what types of work environments I do best in."
Conrad agrees and adds another dimension: "I'm a strong believer in being positive and surrounding yourself with positive people. One of the biggest opportunities I see for myself in the workforce is being a positive, uplifting influence."