News
»
Go to news main
Getting to know your staff: Colleen Van Doninck
Posted by
Yitong Lui
on July 7, 2022 in
News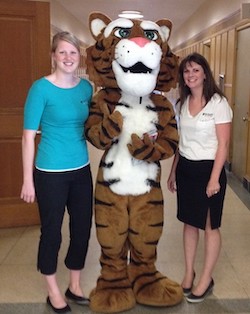 Colleen Van Doninck is an Academic Advisor in the Undergraduate Advising Office. This is Colleen's 14th year working at Dalhousie University. After earning her Bachelor of Arts in Dalhousie, she started her first job as the front desk clerk in the Faculty of Graduate Studies (FGS), a time full of unforgettable memories. Colleen recalls: "I was in my early 20's and the team there was very supportive and fun; we had a lot of laughs, and it was a great learning experience for me." After that, Colleen worked as a Staff Specialist in the Registrar's Office before joining the Faculty of Management as an Academic Advisor six years ago. (Right: Colleen with Erin Naugle, from her time at the Registrar's Office)
Colleen spent her childhood on the South Shore in Hebbville, where she enjoyed exploring the local farms, lakes and forests. In the summer, she and her family would visit Risser's Beach almost daily if they were not camping there already. Colleen's childhood ambition was to become a zoologist, and she admired Steve Irwin. Because of her interest in working with animals, Colleen almost applied to an Animal Science program in Montreal, but due to financial constraints and being away from family, she applied to the Science program at Dal. "I changed my mind approximately 11 more times before settling on the program that I am really delighted with." Looking back, she is happy with her decision as it led to her passion for Sociology and Social Anthropology.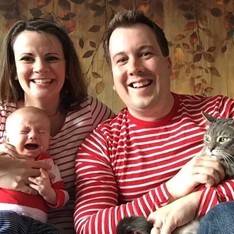 When it comes to her favourite memories, Colleen says one was attending her mother's Bachelor of Management convocation. Her mother earned her degree as a mature student and they studied at Dalhousie at the same time. Colleen remembers the wonderful time when she and her sister would meet up with their mom on campus. "My mother was incredibly dedicated and hardworking, so her convocation ceremony was a true celebration." Colleen also had her wedding reception at Dal in the Great Hall at the University Club. "I've had so many incredibly fun moments in my life at Dalhousie over the years, so it's hard to choose which memory is my favourite!" (Left: with husband Kyle and son Grayson)
Colleen's typical workday consists of advising and assisting students with academic issues and she endeavours to create a safe and comfortable environment for them. Colleen often reflects on the privilege it is to work with students and how hard it can be for them to open up and ask for help. She says the most challenging part of her job is seeing students struggle with mental health issues. However, she is glad to see that more people are paying attention to their own mental health problems, and the university has begun to provide more support and service to relieve students' psychological pressure.
Colleen enjoys spending time outdoors with her family in her spare time. She loved to bike as a kid and feels so happy to be getting back into as an adult with her 5-year-old in tow. Beyond that, Colleen loves making quilts for others, choosing the colours and themes with the recipient in mind. She gets a sense of fulfillment from creating new quilt patterns, learning new skills and then putting it all together. (Right: biking on the BLT trail with Grayson)
Colleen's advice to new staff is don't be afraid to ask questions when everything is new. Willingness to learn, enthusiasm and a positive attitude are essential. "In my experience at Dalhousie, everyone is friendly and professional, and they want to see each other succeed. Go to the faculty and staff events and see for yourself. Take advantage of the many training and development opportunities when you can."