News
»
Go to news main
Getting to know your staff: Marianne Hagen
Posted by
Daniel Race
on June 1, 2021 in
News
How long have you been at Dalhousie? What was your first job here?
I have been working at Dalhousie University for more than 30 years! My first job was in the Killam Library circulation department sorting books and stocking shelves. I had just finished a previous job that I didn't enjoy and heard great things about working at Dalhousie.
What did you do before you came to Dalhousie?
I was a long-haul trucker for around three years. I hauled fish cargo from Nova Scotia to Florida for SeaWorld to feed their wildlife. I was one of very few women in the industry at that time, which often made it challenging, but I enjoyed the freedom of the open road.
One of the most unusual experiences during the job was when I was driving through a small town and the refrigeration system in my truck stopped working. I pulled into a gas station and told the people working there to tell everyone they knew to come and get free fish!
What is your favourite Dalhousie memory?
My favourite memory while working at Dalhousie was during Hurricane Juan on September 24, 2003. When the hurricane hit, I helped the then-president, building staff and security team evacuate the residents of Fenwick Tower to a nearby hotel. It was rewarding to be able to help our students survive a horrible experience while making them feel safe.
What do you do outside of work? What do you like to do to relax?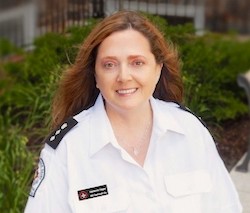 I'm a volunteer medical responder with St. John Ambulance, an International charitable organization. In normal years, I volunteer a few thousand hours throughout the year. I currently hold the position of Provincial Disaster Coordinator, working with approximately 500 volunteers and other groups. We are considered second responders and set up shelters where people who have been displaced are relocated and we treat minor medical issues.
During the COVID-19 pandemic, I have been inspired to get out of the house for some fresh air more often. These days, that includes a 10-kilometre walk early every morning.
Have you always lived in Nova Scotia?
Yes, I grew up in Grand Desert – just outside Lawrencetown here in the Halifax Regional Municipality.
What advice would you give to a new staff member?
There is a lot going on at Dalhousie so don't be surprised if it takes a while for you to absorb everything! I would also tell them that they have joined an amazing place to work. We come in all different shapes, sizes and nationalities but we share common goals: to help our students, learn from each other and grow.