News
»
Go to news main
Getting in touch: MREM student invites you to text a tree

MREM student Julietta Sorensen Kass (right) with Anna Irwin-Borg (BSc '19), Text-A-Tree project assistant. (Danny Abriel photos)
What would a tree say if it could talk?

Resource and Environmental Management student Julietta Sorensen Kass is offering Halifax residents and visitors alike a chance to find out with a public engagement project called Text-A-Tree, coming this summer to the Halifax Public Gardens.

The project invites people to send text messages to the trees they meet in the Public Gardens. Participants will receive a reply text from a volunteer with information about the cultural significance and biology of the tree.
"We're calling on trees in an old-style way using modern media," says Julietta. "People would think writing a letter to a tree is beautiful and sacred." She wants to see if people will be able to forge a similar connection over text message or social media.

The seed of an idea

The idea came to Julietta at an urban forestry conference where she heard about a project in Melbourne, Australia. Email addresses created to track maintenance issues for individual trees were flooded with letters from citizens who wanted to connect with the trees emotionally: thanking them for providing oxygen and shade, asking how they are doing, paying them compliments.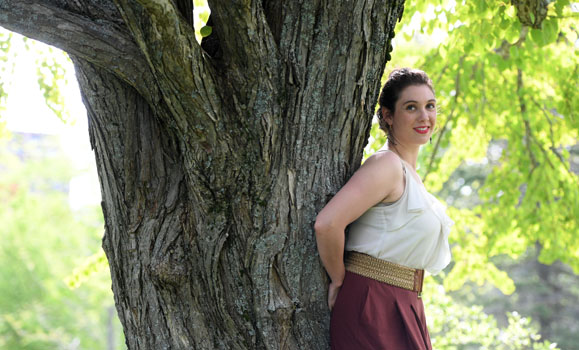 Julietta Sorensen Kass.
"I was telling a friend about it and the words just fell out of my mouth: what if you could text a tree?"

She brought the idea to Professor Peter Duinker in the School for Resource and Environmental Studies, to see if he would supervise the project. He helped her incorporate it into her Master's of Resource and Environmental Management (MREM) internship, working on Halifax Regional Municipality's Urban Forest Master Plan.  

Julietta thinks that people have started to think of themselves as separate from nature as more of our population is concentrated in cities, and it's changed how we relate to trees. "Trees aren't going anywhere but our culture is evolving. We want to find a way for people to socially relate to trees."

Participants will receive a short survey at the end of the project. Julietta hopes that the research will inform conservation and biodiversity initiatives. "Planting trees in cities is going to be a huge way forward for addressing climate change, and that's not free," she says. "We need to find out what people value about trees in cities."

Growing a community

The project has attracted many enthusiastic supporters. "The Friends of the Public Gardens jumped right on board," Julietta says. She's honoured to be the 2019 recipient of their Suellen Murray Educational Bursary, in memory of a Halifax woman who found solace in the Public Gardens after a brain tumor diagnosis.

There are 14 volunteers signed up as "tree-speakers" who will voice the trees by text message. Some of them have contributed playful names to their assigned trees. There's Leaf Erikson, an elm named for a Norse explorer. Tree Tree O'Hara is a striking yellow birch named for a performer best known for competing on RuPaul's Drag Race. Julietta is pleased to see the volunteers spending time with and feeling connected to the trees.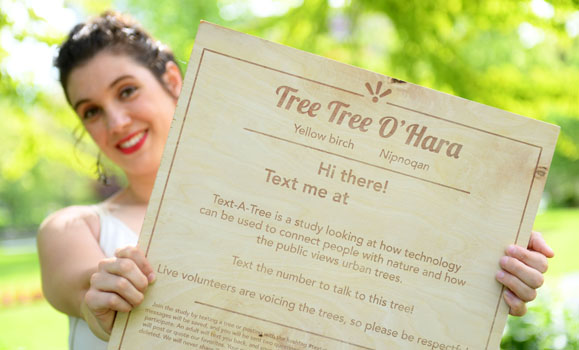 Julietta holding of the signs promoting the Text a Tree program.
"It isn't really an idea anymore. It's a community," she says.

That community includes cultural guides who have provided information on the cultural significance of some of the trees. Roger Lewis, ethnology curator at the Nova Scotia Museum, and Thomas Christmas from the Mi'kmaw Native Friendship Centre provided information about trees that are significant in Mi'kmaq culture.

Haruka Aoyama, a student in Dal's Environment, Sustainability & Society program and president of the Japanese Society of Dalhousie, acted as the cultural guide for the project's Japanese trees, chosen to honour Halifax's twin city in Japan, Hakodate. The project will launch on the date of Tanabata, a Japanese festival that traditionally includes tying written wishes to bamboo branches that is floated along a river or burned as an offering. Text-A-Tree's version features a Katsura tree that people can text wishes to. A selection will be posted to Text-A-Tree's social media accounts.

Living in the urban forest

What Julietta wants most is to inspire people to see the trees around them in a new way.

"What I'm hoping is that I'll get a message from someone who walks down the street differently... who will look up," she says. "That's what happened to me when I started studying urban forestry. Now I feel like I'm always in nature. I see the trees, not the concrete."

Map of trees that can be texted in the Public Gardens.
The Text-A-Tree project runs from July 7 to September 4. To participate, find the phone numbers of the trees posted on signs around the Halifax Public Gardens. More information is available on the Text-A-Tree website, and on Facebook and Instagram (TextATreeHalifax).