News
»
Go to news main
Schwartz/Reisman Canada–Israel Exchange Program grows at Dal
Posted by
Erin Elaine Casey
on November 5, 2017 in
News

Second from right: Hilary Beck, Dalhousie Commerce student


Riding a camel, floating in the Dead Sea and walking the path that Jesus is thought to have walked on the way to his crucifixion are not activities typically associated with an international business student exchange. But those are just a few of the cultural highlights enjoyed by participants in the Schwartz/Reisman Canada–Israel Exchange Program.
The unique program allows Canadian university students to experience first-hand Israel's history, culture and people. It was established ten years ago at the Asper School of Business at the University of Manitoba by Sergio Carvalho. When Dr. Carvalho joined the Rowe School of Business, where he is Professor of Marketing, he expanded it to Dalhousie.
"I hear from the students every single time: It's a life-changing experience," says Dr. Carvalho. "What they learn in the classroom they can see in the real world. They share everything with Israeli students. They visit the entire country from north to south and have a good understanding of the complexities, and how politics is very much influenced by the religious beliefs of three major monotheistic religions."
Today, a total of five institutions, including the University of Waterloo, Wilfrid Laurier University and the University of Calgary, run exchanges in partnership with universities in Israel. Each school offers its own course subject matter, but every program adheres to the Foundation's guidelines and builds connections between Canadians and Israelis. Dalhousie partners with Tel Aviv University, and participants earn a Global Marketing credit.
Each year, from late April to late May, approximately 15 Canadian and five Israeli exchange participants receive support from The Gerald Schwartz & Heather Reisman Foundation to spend two weeks in Canada and two weeks in Israel immersed in an intensive experience that includes lectures, coursework, consultations with local business and community leaders, company tours, meetings with members of the local Jewish community and visits to key cultural and historic sites.
The Schwartz/Reisman Foundation has funded the program from the beginning. Thanks to a generous additional three-year financial commitment, national program coordinator Dr. Carvalho will lead the process of integrating all programs to establish consistency in the student experience. The ultimate goal is to expand to many more universities. "My dream is to have more than 1000 students going to Israel every year," says Dr. Carvalho.
"We are delighted to be funding the further growth and development of this transformational program so as many students as possible can benefit from the professional and personal learning it supports," says Gerald Schwartz. "We are extremely excited for the students to be able to experience firsthand the incredible and vibrant country that Israel is," added Heather Reisman.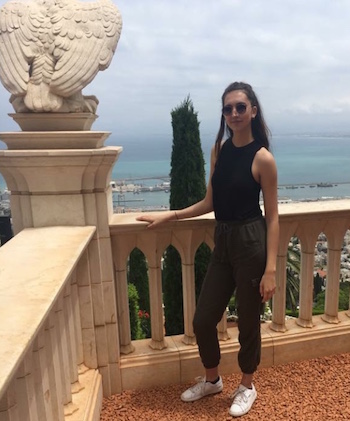 Gillian Ward (pictured right in the Baha'i Gardens) is a third-year Bachelor of Management student majoring in globalization who completed the program in spring 2017. Her biggest takeaway? "Seeing so many different cultures and religions all in such a small place was very eye opening. And fundamentally, everyone just wants to be happy."
Another highlight for Gillian was getting to know the Israeli students. "It was awesome! I'm still in contact with them. They were very, very kind and I loved learning from them, and I think they liked learning from us. They made the trip really fun."
Accounting Major Hilary Beck is finishing her final year at Dal and was on the same exchange as Gillian. "I would highly recommend it to anyone," she says. "I just thought it was an amazing experience. We got to learn so much about the culture and Israel in general, and we got to meet new people. It was incredible."
Israeli student Eitan Smith participated in the exchange program before starting law school at Harvard University. He credits the program with helping him to understand how crucial it is to adapt businesses and marketing to cultural differences. "Don't think twice," he says to students considering signing up. "After participating in several educational programs worldwide, I can state with confidence that this is one of the most inspiring, skill-developing and fun programs around."
At Dal, the program is open to undergraduates in the Rowe School of Business. To be accepted, they must demonstrate high academic achievement, be returning to university in the fall and show community involvement and leadership. They also cannot have visited Israel before or be eligible to visit through other programs.
"They come back with the sense that there is so much outside Canada that they did not understand very well," says Dr. Carvalho. "We also see how that deepens their perspective of who they are as Canadians. They come to that realization of the Canadian identity – what it is, what it means. They become more culturally sensitive and open. To me, it's important work and it's really rewarding."
The Gerald Schwartz & Heather Reisman Foundation supports a variety of programs in literacy, education and health, many which have a strong focus on Israel and the Jewish Community.
Israel/Canada group meeting in Toronto with Lori Shapiro (centre) and Shira Fenyes (second from left) of the Gerald Schwartz & Heather Reisman Foundation