News
»
Go to news main
International students share harvest meal with faculty and staff
Posted by
Nicole Maunsell
on October 17, 2017 in
News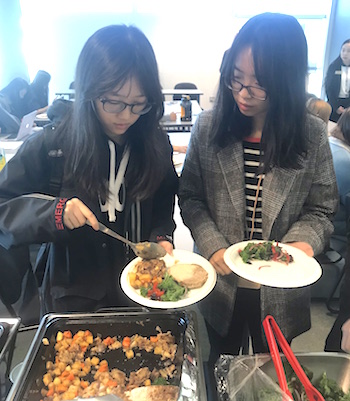 On October 12, the International Student Success Program (ISSP) hosted a Thanksgiving lunch for international and exchange students in the Faculty of Mangement. Faculty and staff joined them to share information about Thanksgiving and other harvest celebrations in their countries. Students learned about traditions from people from Brazil, England, Canada, the United States, Korea, Ukraine, Fiji, China and Barbados.
The event is part of the ISSP's new ambassador program, started by professor and ISSP director Bill Foster, which aims to connect students with faculty and staff from the various cultures and nations represented in the Faculty of Management, and encourage communication between domestic and international students.
Teresa He, BComm student and internationalization and communication assistant for the ISSP, thinks the event was a success. "Students now know more about each other, about their professors and the different cultures they come from," she says.
Teresa works with Liz Muaror-Wilson, the ISSP teaching assistant, to organize the twice-weekly ISSP sessions open to BComm and BMgmt students. She helps with planning, invites speakers and promotes the events, all with the aim of engaging international students in Management's undergraduate programs. "In September, we focused on welcoming students to Dal and university life," she says. "In October, we're helping them get to know more about the faculty."
Many of the students at the Thanksgiving meal are in first or second year and haven't yet had a chance to connect with professors in smaller groups or one-on-one. Events like these are designed to help students get to know faculty and staff so that they feel more comfortable approaching professors, accessing services and participating in class. Sessions this semester include an interview simulation from Management Career Services, an introduction to Dalhousie's co-curricular record and networking with members of Halifax's business community.
ISSP sessions are aimed at international students from the BComm and BMgmt programs but open to domestic students as well. Sessions are held on Tuesdays and Thursdays, 11:30-1:00, throughout the term. For more information, visit the ISSP Facebook page.