News
»
Go to news main
The right place and time: Rowe Commerce student's work pays off
Posted by
Miriam Breslow
on February 8, 2017 in
News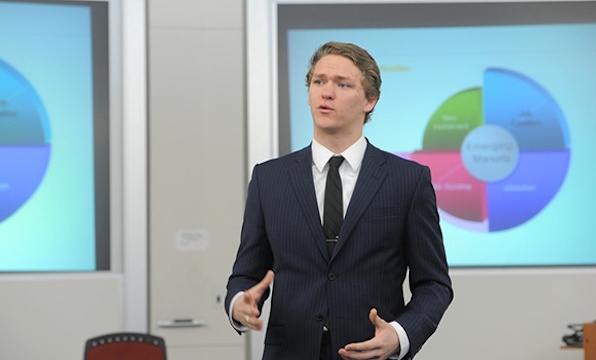 Samuel Dundas is a fan of the maxim "I am a great believer in luck, and I find the harder I work, the luckier I get." A third-year student in Dalhousie's commerce program, Dundas has a personal connection to this quote. The entrepreneurship and innovation major has invested substantial effort and taken unusual initiatives in his academic and business projects, and they've paid off in sometimes surprising ways.
Dundas has always been active with extracurricular activities. In 2015 and 2016, he was a member of the Rowe JDCC team. More recently, he and classmates Bryce Cross and Kyle McLean were celebrated for their presentation at the IAFP (Institute of Advanced Financial Planners) Trust Advisory Symposium in Niagara Falls, and subsequently have continued to present to financial groups. Although Dundas came to this activity through an interest in finance, the presentations actually spurred him onto a new path.
"The IAFP conference sparked my interest in entrepreneurship. Before that I was 100% finance," says Dundas, who met an entrepreneur working on mobile medical care. After first joining the entrepreneur on his initiative, Dundas began to focus on his own start-up projects.
One of those start-ups is a service for those working in the alcoholic beverage industry, which opens a digital sales channel for bar owners to earn revenue before opening their doors for business. "I started looking up where innovation is in this industry," says Dundas, and his search turned up a relevant conference in London, England. Since Dundas was on an entrepreneurial work term at the time, he could afford time for a trip; however, it wasn't a student conference, and it was expensive.
Dundas didn't let that stop him. "I said 'it's worth a shot,'" he recalls. He contacted the conference facilitator and explained why he wanted to attend, resulting in a 50% discount on the registration fee. "So then I started knocking on doors," he says. The Dalhousie Commerce Society and Management Career Services gave Dundas significant financial help, and the Dalhousie Student Union chipped in. A friend's family, who were living in London, agreed to host him. "So next thing I know I'm getting on a plane," recounts Dundas. "I was really excited because I love representing Dalhousie in new, cool ways. Here I am, a student from a school probably no one there has heard of, and people would say 'How the heck did a student get here? What's Dalhousie?'"
But Dundas never made it to the conference. The morning it began, he took the wrong London subway and ended up on an underground platform far from the event. He asked another passenger for directions, and as they coincidentally headed the same way, the man asked Dundas why he was in London. "For some reason, I gave this stranger this in-depth explanation of my start-up," says Dundas. The stranger turned out to be Frank Meehan, co-founder and partner at SparkLabs Global Ventures and an experienced entrepreneur. "So he says, 'you're not going to the conference. Come with me,'" says Dundas. He quickly decided to change his plans and accompany Meehan to his Kensington office. "He took me into a room of about 40 people, just introduced me and said, 'I found this Canadian kid on the tube. He's going to pitch his start-up to all of you right now,'" says Dundas. "I didn't have time to think. It felt like I closed my eyes and 10 minutes just went by and then they were clapping. I was somehow able to give a really good representation of what I was working on."
Dundas was thrilled to discover that some of his audience members were London's technology leaders, who moreover had connections in the beverage industry. "They were pretty engaged in what I'm working on," he says, "so that was a great connection to make. They're willing to put me in front of venture people in Canada if I make it to that stage."
After the meeting, says Dundas, he called his parents: "I said 'You won't believe what just happened to me.'"
Back in Canada and back in classes, Dundas reflects on the strange events. "It wouldn't have happened without the support of this faculty, and I think that's the most important part," he says. "I would never have had the resources to go to London." The unexpected meeting will likely help Dundas as he engages with Canadian businesses in the industry. "Once I'm ready to bring my service to the customer level," he says, "I will get in touch with my contacts in London; they're hoping I will keep them in the loop as I progress."
Dundas's future ambitions are unsurprising: he hopes to own a business, potentially in Halifax, which he sees as an up-and-coming city. "I believe that it's so cool to have a vision and to bring people on who will commit their life to that vision as well," he says. "You have to buy into that vision."
In the nearer future, though, Dundas wants to share his story and encourage and support other students. "My experiences to date aren't necessarily textbook-oriented," he points out. "I want to tell students that if there's something they're interested in doing, even if it's not in the classroom, they can do it, whether it's starting a business or going across the world to a conference, or competing or public speaking or whatever." Dundas notes that students will have the support of professors and others at Dal. "I just feel like they always have your back," he says. "I'm really proud to be here."