News
»
Go to news main
MBA Financial Services grad Maria Artuso one of Ottawa's Forty Under 40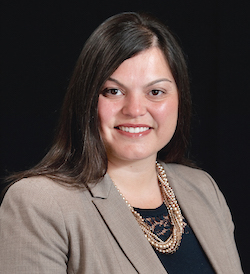 "Surreal" is how Maria Artuso describes the moment she learned that she had been named one of Ottawa's 2016 Forty Under 40. Bestowed by the Ottawa Chamber of Commerce and the Ottawa Business Journal, this honour goes to 40 accomplished and rising businesspeople in the city. Artuso, a manager at RBC Royal Bank and active community volunteer, says she was humbled and surprised to be included. "The individuals in this elite club are just phenomenal," she says. "And to be acknowledged with them—it is really a privilege." She and the other 39 recipients were celebrated at a springtime gala.
Artuso's surprise at receiving this accolade echoes the surprising way her career began. "I'm actually at RBC by mistake," admits Artuso, who grew up in a small town in Ontario and worked in Barrie before moving to Ottawa. "In high school, I had no desire to be in banking whatsoever. Royal Bank was the only company hiring high school graduates at the time." She has now been with RBC for over 18 years. "Wonderful mentors and leaders have offered me a variety of opportunities in the organization, and here I am today," she explains. "For instance, I have worked with brand new clients, most who were first-time homebuyers. It was absolutely wonderful helping clients in this life stage set up their financial success."
RBC has been supportive of her personal growth and desire to learn, says Artuso. In 2012, this support took the shape of an opportunity to do her MBA degree at Dalhousie's Centre for Advanced Management Education (CFAME). Previously, Artuso had taken courses through Georgian College and the Canadian Securities Institute, but until RBC suggested she apply to CFAME's MBA Financial Services program, she had not completed a university degree. "I was really fortunate to attend Dal without an undergraduate degree," she says. "It was an interesting application process for me, but one that paved the way for the great experience I had at Dal."
Artuso describes herself as very fortunate to be part of her cohort of MBA students. "One of my first impressions was of the high calibre of students that Dalhousie attracted into the program," she says. "I also felt that Dal has a culture that is very warm and welcoming, which I noticed even for the short time I spent in Halifax." She also speaks of the care and commitment that she felt from the "phenomenal" faculty in the MBA (FS) program: "The professors really made the whole experience for me."
Aside from specific courses, Artuso lists the important skills she learned from the program that have helped her in her career. She learned to ask better questions, more questions, look at issues from a variety of perspectives, and to "leave nothing off the table for consideration." Dalhousie also encouraged her to deepen her self-reflection and to work with patience and acceptance: "The other piece I learned is that sometimes things are not going to be perfect," she says, "and you have to be okay with that."
Since her graduation in 2015, Artuso has continued to excel at RBC, where, until a recent switch, she worked as branch manager of the largest Royal Bank in the Ontario Northeast (ONE) Region. Besides managing at RBC, Artuso spends enormous time and energy on another passion: volunteering.
Artuso cites "giving back, both within the organization and within the community" as the main reason she believes she was included in the Forty Under 40. She has been involved in multiple volunteer endeavours, including co-founding and co-chairing both the ONE Region Women's Employee Resource Group and the ONE Region NextGen Employee Resource Group at RBC; co-chairing United Way fundraising campaigns; serving on advisory boards for Georgian College and Algonquin College; and working with the director of CFAME to serve as an ambassador for the centre and its programs.
The organization Artuso speaks about most, though, is Junior Achievement. "Where I found my passion is with financial literacy and with schools," explains Artuso. Junior Achievement's goal, she says, is to empower elementary- and high-school students through various programs to reach their highest potential. "Working with Junior Achievement probably cemented that I should not be a teacher, but I really enjoyed the materials we were delivering," says Artuso. "And I loved how I could actually leverage my personal experiences to share in the classroom with students of different ages, and how I could impact a youth's life by spending one-on-one time with them." Having worked with Junior Achievement in Barrie, Artuso sought out the Ottawa chapter immediately upon moving. "That was my first way of getting involved in the community and meeting people in a city in which I had absolutely no connections."
Artuso's dedication to volunteerism and her penchant for continual growth in the workplace seem likely to continue. RBC has just given her a new leadership role: Manager Financial Planning. "It's a great opportunity to continue living and volunteering within my local community and growing a business that's important to Canadians," she says, citing groups such as retirees in need of wealth transformation advice, or professionals starting out in their careers. Artuso was also thrilled to accept a recent invitation to serve on the advisory board for Carleton University's Management Development Program for Women. She stays in contact with colleagues near and far, including those from CFAME. "Dal really introduced me to several new networks," she says. "That was really quite special too. That's the impact of the school and the people that Dal attracts—it's allowed me to experience a whole new set of friendships."
Having a friend like Artuso, with her generosity and desire to make a difference, seems like a good thing. "This idea of paying it forward," she says, "is how the world should go around."