2018 MLIS Career Discovery Tour ‑ Toronto
Management Career Services presents the opportunity for MLIS students to participate in the 10thannual Career Discovery Tour taking place in Toronto on Tuesday, December 11 and Wednesday, December 12, 2018.
"Given the generosity of these IM professional with their time and knowledge, I've gained so many new perspectives and feel more comfortable with my career field of choice." 1st year MLIS student
Not only will you gain exposure to careers in information management and libraries, this is your one-time chance to engage on a more personal level through sessions and networking events with representatives from a variety of organizations.
BENEFITS
Building your professional network
Learning more about career options
Participating in mock interviews
Gaining a better understanding of a variety of career paths

Exploring policy issues
Gain recognition for your participation in the Career Discovery Tour by adding it to your Co-Curricular Record. 
IS THIS TOUR FOR ME?
Yes, if you want the following:
To expand your network of professional contacts with employers and alumni
To gain an understanding of the culture within various organizations
To practice networking and interviewing
To create leads towards career related employment
To discover potential career opportunities
To find out what it takes to be successful

QUOTES FROM PAST PARTICIPANTS
"The tour was quite valuable to me. I gained so much insight from the professionals in hearing their experience of getting into the field."
"I learned a lot by interacting, which is my preferred learning method, which often gets overlooked in school."
"I think the tour was a fantastic experience for me. It made me feel validated about my career path and more knowledgeable about what is out there."
"I really valued the networking event. It got me out of my comfort zone and making conversation. I also valued the feedback from the practice interviewers."
"I had no experience in networking and this was such a comfortable environment to dip my toe in the water"
"Helped me understand data management and helped me expand my career path horizons"
TOUR DATES
December 2018 dates: December 11 and 12, 2018.
Day One: the tour will start at 8:00 a.m. and go until approximately 7:30 p.m.
Here is a sample itinerary based on the tour that took place last year [PDF 208 kB]
REGISTRATION
Registration will open on Friday, September 14 @ 12noon
Space will be limited to 15 participants and is based on first come first served basis
The registration process will be outlined to all MLIS students by Wednesday, September 12 via email
A resume, 200 word profile
Registration closes on Monaday, October 1 @ 12noon
MCS SERVICES
Participants of previous MLIS Career Discovery Tours took advantage of the following opportunities:
Resume reviews
Participant Resume Book distributed to employer that the group interacts with

Business cards for students
Alumni reception
Mock interviews
Preparation workshop prior to departure Tuesday, November 20 @ 12 - 2 p.m.

How to take advantage of this career development opportunity
Goals to set
Brief overview of employers
Meet other participants
PARTICIPANT RESUME BOOK
MCS is putting together a "Resume Book" which will be circulated to all participating organizations. This will contain resumes and profiles of all tour participants. Each resume and profile will be reviewed and once reviewed, your documents will be returned to you with comments. You will have 48 hours to make changes to your documents and send the documents back to MCS.
Online Seminar:
To assist you with creating a high quality resume and profile please refer to the following webinars:
RESUME CRITERIA:
To ensure your document will fit in the Resume Book, please review the criteria:
Use MS Word
Do not use a template
Set your margins to 'normal' (2.54 cm / 1 inch on all sides) so that none of your document will be cut off in the binding process
Remain consistent in your font throughout your document
Do not insert page numbers
Recommend using right aligned dates
Maximum resume length is two pages
PROFILE:
COST
Students are responsible for making their own travel and accommodation arrangements. In prior years, students have made arrangements to stay with family and friends or to share accommodations.
You will be charged a $100 cancellation fee if you cancel less than 30 days prior to the event, or if you do not participate fully in the event. Bring cash for your meals and taxis (amounts to be determined).
TRAVEL ARRANGEMENTS
When making your travel arrangements for the tour, please keep in mind the following:
Since the tour will start early in the morning and you will not be able to take your luggage with you during the tour, everyone must arrive in Toronto the evening before the tour starts 
It is expected that the tour will end at 5:00 p.m. on the second day.
Students are required to participate in the full tour
Enough time will have to be given to gather your luggage during rush hour and make it to the airport in advance of your flight out of Toronto. Therefore, flights should be booked to leave Toronto after 8:00 p.m. on Day Two.The Billy Bishop Toronto City Airport is much closer to downtown and it has a number of flights operated by Porter and Air Canada Express to regional destinations.
CONTACT
Please direct any questions to:
Robert Wooden
Operations Manager, Management Career Services
Robert.Wooden@dal.ca
902.494.6688
QUOTES FROM PAST PARTICIPANTS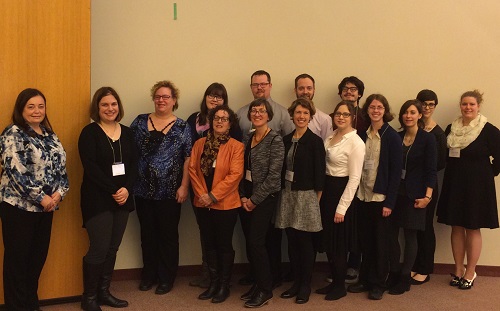 "Each visit we made was brilliant. We visited diverse locations, met so many people and I love the amount of time to mingle and talk with professionals." 
"Highly valuable, in that it touched on a wide variety of IM workplaces." 
"This tour was invaluable. I got more out of the experience than I realized – connections, exposure to non-traditional career options – and it has given me more confidence about my education and future career path." 
"This trip has helped me get outside of my comfort zone in many ways, especially at the networking and mock interview components."