»
Go to news main
Redefining her role: Ade Oyemade
Posted by
Nicole Maunsell
on May 29, 2017 in
News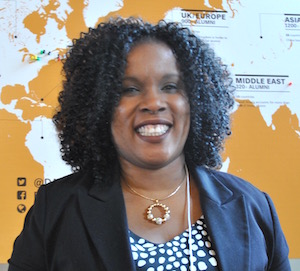 Ade Oyemade is responsible for a complex web of information. As a senior business analyst in the registrar's office at an Ontario university, she works with systems that track information for 10,000 students on two campuses, including admissions, academic records, financial aid and student awards. In a multi-hierarchy, decentralized environment like a university, this is no easy feat: different departments have different practices for recording and storing information, and they might not always line up. With the vast amount of electronic information that organizations today generate, this could easily become overwhelming, but Ade is up for the challenge.
After 19 years in the IT industry, Ade chose the Master of Information Management program because she is passionate about working in higher education, and wanted to "advance my knowledge and professional network by applying my learning to my current job." The program let her study part-time while working full-time, something that she says was "hectic" at times, but her family (she is married with three children) helped support her throughout.
The program brings together information professionals like Ade who are working across the country and around the world in complex environments so they can learn from each other. Her favourite part was getting to meet her classmates in the intensives, where online course participants come together at the end of the term to meet in person. She found this helped to "foster deep understanding of the materials" and encouraged team collaboration.
The capstone course in the MIM program is designed to allow students to do research to support evidence-based decision-making in their organizations. Ade's project helped her better understand the challenges of implementing an electronic records management system in a university, and she was able to bring recommendations back to her workplace. The program, she says, has helped to "redefine my role" in her organization, and allowed her responsibilities to expand beyond student information systems to include a broader responsibility for records management. Her leadership responsibilities have also expanded and she is now fostering communities of practice for standardizing student data across the university. Through her deepened understanding of information management principles, she has been able to "implement information governance structures and enhance cross-training programs to foster knowledge management across departments," which means that complex web of information she grapples with is a becoming a bit more orderly.