About the Faculty of Management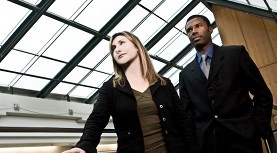 Management News from Dal News
Meet this year's Dalhousie teaching award winners
Dalhousie's teachers make a difference in the lives of our students each and every day. Get to know the eight impressive individuals who are being recognized with this year's University-Wide Teaching Awards.

Grad profile: Getting down to business
From social entrepreneurship to on-campus employment at the Dal Bookstore, some of Mary-Margaret Bennett's defining Dal experiences have comes from applying her learning and skills outside the classroom.

Grad profile: Finding her passion
Through her Recreation degree (together with a Bachelor of Management), Lisa Odland discovered a new sport — goalball — and a new commitment to helping athletes who are blind and visually impaired.

View more Dal News
Faculty & Research