About the Faculty of Management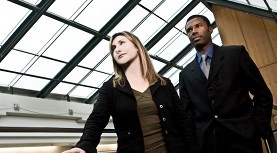 Management News from Dal News
Meet Dal's Top Co‑op Students of the Year
Get to know the six future leaders who are receiving Dal's student co-op awards, and how they each made the most of their work experiences.

Managing opportunity
Award-winning Bachelor of Management student Joe Seney's entrepreneurial spirit has enhanced his experience at Dal — and given him a sense of what his career afterwards has in store.

The Conversation: Young Canadians lead the charge to a meatless Canada
Canadians still love their meat, but consumers under 35 are three times more likely to consider themselves vegetarians or vegans than consumers who are 49 or older, writes Management's Sylvain Charlebois in his latest piece for The Conversation Canada.

View more Dal News
Faculty & Research