Queen's Univeristy
Belfast, Ireland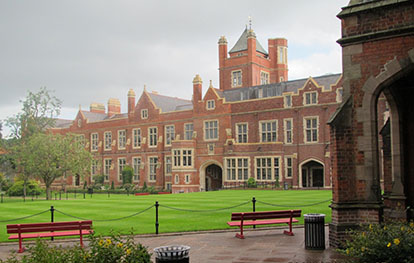 Availabilty: 2 spaces
Language Requirement: Courses offered in English
Autumn semester: Mid Sept. - mid Dec.
Spring semester: Early Jan. - end of May
Canada Specific Information:
https://www.qub.ac.uk/International/International-students/Your-Country/Canada/
Visa/Permit Requirements
If you a going to be attending for one semester, you will need a Short Term Student Visa. If you will be attending for a full academic year, you will need to apply for a Tier 4 General Student Visa. Once you have accepted an offer Quuen's will issue you the necessary documentation to apply for your visa.  You can contact iss@qub.ac.uk for assistance.
Accommodation
Student housing is located within walking distance from the university in a residential area. Accommodation is self-catered, and includes internet access. International students are guaranteed a place.
www.stayatqueens.com.
Insurance
Students are expected to have appropriate health insurance for the duration of their stay. Obtain international health insurance or find out if your existing insurance covers you internationally.
Courses Offered
Dalhousie students are entitled to access modules offered at the LLM level as well as JD level courses. There are courses on the EU and governance law, International business and law, Human Rights etc. Course offerings vary from semester to semester.
Cost of Living
Belfast was recently named the UK's most affordable city. The cost of your stay will largely depend on your lifestyle, and the kind of accommodations that you choose. Accommodation ranges from $170 to $200 per person, weekly. The average student at Queen's spends $80 a week on groceries.
Additional Information
Queen's offers great social opportunities with over 190 clubs and societies. The city offers a unique blend of Irish and British cultures and has bars, museums, an incredible atmosphere, and is surrounded by "Game of Thrones" film locations. Northern Ireland was recently named the safest region in the UK (British Crime Survey, 2014). The school also has a dedicated International Students Support Office to assist you during your stay.