News
»
Go to news main
Using Law As A Tool For Reconciliation
This story originally appeared in the 2021 edition of Hearsay, the Schulich School of Law Alumni Magazine.
Naiomi Metallic ('05) has been making her mark at the Schulich School of Law since she entered the doors of the Weldon Law Building as a student. After earning her LLB here, she graduated from the University of Ottawa's civil law program the following year and then became the first Mi'kmaq person to clerk at the Supreme Court of Canada. She holds an LLM from Osgoode and is currently doing her PhD at the University of Alberta. Metallic spent nearly a decade practicing Aboriginal Law as an associate with Burchells LLP in Halifax, before joining Schulich Law as a professor in 2016.
Metallic, from the Listuguj Mi'gmaq First Nation in Quebec, made the decision to move to academia so she could continue her work for First Nations through teaching, writing and speaking about issues facing Aboriginal peoples in Canada and how the law can be a tool for reconciliation. Metallic was appointed as Dalhousie's inaugural Chancellor's Chair in Aboriginal Law and Policy in 2016 to foster greater teaching and research on Aboriginal law and policy issues at the law school, as well as promoting interdisciplinary partnerships. She will now embark on her second, five-year term in the role.
Laying the Foundation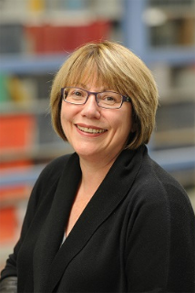 The Chancellor's Chair in Aboriginal Law and Policy was created through the generous support of A. Anne McLellan ('74), PC, OC, AOE, former Chancellor of Dalhousie. McLellan wanted to ensure the role was fully supported and that Metallic had the resources and flexibility required to advance the education of Aboriginal Law. "I could not imagine accomplishing the things I have to date without the Chancellor's Chair fund," says Metallic. "It has allowed me significant latitude to pursue various projects to enhance curriculum and student experience at Schulich Law and leverage partnerships and additional funding."
Over the course of Metallic's first five years as the Chancellor's Chair in Aboriginal Law and Policy, she has focused on deepening the foundation of Aboriginal and Indigenous Law at the law school. She has contributed to teaching and expanding the law school's curriculum while researching and mobilizing knowledge in Aboriginal Law. She has also collaborated on interdisciplinary courses, fostered relationships between Dalhousie and Aboriginal communities in both the Maritimes and Atlantic Canada and has continued to build the profile of the law school and Dalhousie University in this area.
The Advancement Of The Aboriginal And Indigenous Law Curriculum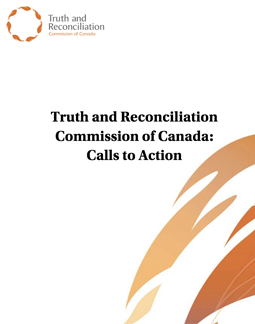 Metallic's plan for her first five-year term was to implement the Truth and Reconciliation Commission (TRC) of Canada's Call to Action 28. The implementation of the TRC ensures the teaching of the history and legacy of residential schools, the United Nations Declaration on the Rights of Indigenous Peoples, Treaties and Aboriginal rights, Indigenous Law and Aboriginals-Crown relations. In the fall of 2016, Metallic first introduced blanket exercises, facilitated by the Mi'kmaw Native Friendship Centre, which are an experiential exercise where students learn about Canada's history of colonialism toward Indigenous peoples. The blanket exercises became mandatory as part of the first-year program.
"Many students expressed how eye-opening and powerful the blanket exercise was," says Metallic. "Some students said they had little to no knowledge of Canada's history and ongoing role in colonization or the role the law and lawyers played in it. Even those with some knowledge expressed that having this story laid out as a full narrative, with them as participants in it, deepened their understanding of Canada's true history."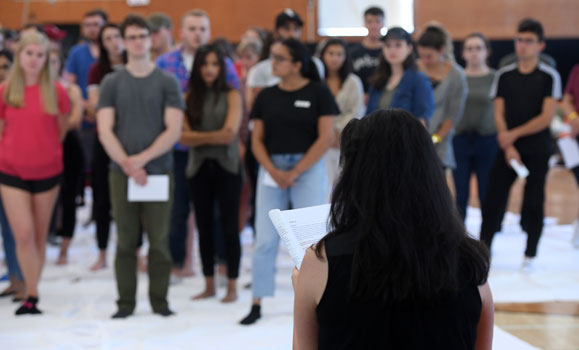 In her first year, Metallic introduced the Indigenous Governance course, an upper year paper course, which she co-developed and co-taught with her colleague Constance MacIntosh. In September of 2017, with her TRC Committee members, she organized and delivered the Aboriginal and Indigenous Law in Context (AILC) course. This is a two-credit mandatory intensive course in the first-year curriculum, intended to lay the foundation on our collective obligation to justice and reconciliation, while allowing for further learning in Aboriginal and Indigenous Law.
The TRC Committee, which Metallic serves as Chair, also saw the need to develop a database for the benefit of Schulich Law professors to provide helpful resources that could be used to incorporate more Indigenous and Aboriginal law content into their classes. In her third year, Metallic and her colleagues put forward a proposal to Faculty Council to introduce a new Aboriginal Peoples and Law survey course to complement the existing paper courses in Aboriginal Law and Indigenous Governance. This course was approved and Metallic taught it for the first time in 2018-2019.
It was not long before she submitted another proposal for the Indigenous Law as Practice: Applying Mi'kmaq Legal Traditions course. This two-credit course focuses on various emerging methods for revitalizing the legal orders of Indigenous peoples, with an emphasis on Mi'kmaq law.
In 2019, Metallic and her AILC teaching colleagues received the Class of 1967 Teaching Excellence Award, as they were recognized for their supporting projects related to teaching and learning subjects that are new and beneficial to students' education.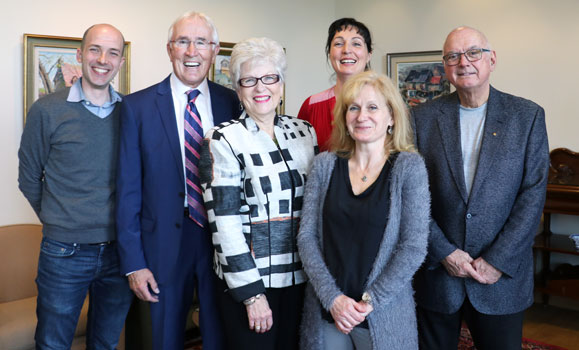 Left to right: Colin Jackson, Alan Hayman, Diane Campbell, Naiomi Metallic, Constance MacIntosh and Art Miller mark the Class of 1967 Teaching Excellence Award with a photo.
With the addition of a number of courses to the curriculum, alongside existing courses, the TRC Committee recognized that it would now be possible for students to obtain a specialization in Aboriginal and Indigenous Law. In Spring 2020, the TRC Committee successfully moved a proposal for the Certificate in Aboriginal and Indigenous Law through Faculty Council. The certificate was approved and was offered to JD students in the fall of 2020. The objective of the certificate is to ensure that future legal professionals are educated on Aboriginal rights and how to support Indigenous communities on the expansion of jurisdiction and the revitalization and implementation of their laws.
Metallic says that achieving a mutually respectful relationship between Indigenous peoples and Canada and equitable sharing of jurisdiction, land and resources are key challenges facing our country. "The law plays a fundamental role in these dynamics and can serve both as a tool for oppression as well as a tool for positive change," she says. "At this point in our nation's history, future lawyers must understand as well as know their roles and responsibilities in addressing these challenges."
Commitment To Student Involvement
Metallic is deeply committed to supporting Indigenous students in a variety of ways and strives to hire them as her research assistants. Throughout the years, Metallic has used her Chair resources to support Indigenous students attending the Indigenous Bar Association (IBA) annual conference. When the IBA was being held in Halifax, Metallic who was on the organizing committee, secured free admission for 18 students.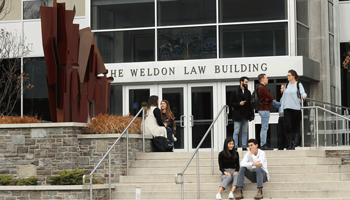 In 2018-2019, she hired five summer students. That year she brought three students with her to conferences.
"One student co-presented with me," says Metallic. "He was a first-year Mi'kmaq student and I believe he gained a lot of confidence from that experience." The next year, she hired two research assistants in the fall and winter. Given the impact the pandemic had on student jobs, Metallic most recently hired seven research assistants, three being Indigenous and one an African Nova Scotian.
"It is important for me to support Indigenous students and I try to make myself open and available to them," says Metallic. "I work with my RAs to help them in their learning and practice of research and analysis skills. It gives me an opportunity to get to know them, encourage them, and be a good reference for them. I also think it is important to support non-Indigenous students who have an interest in Aboriginal and Indigenous law and nurture their desire to be allies."
Looking Ahead To The Next Five Years
As Metallic embarks on her second term as Dalhousie's Chancellor's Chair in Aboriginal Law and Policy, she still sees work to be done on expanding the curriculum to respond to the TRC Calls to Action. Schulich Law now has two more Indigenous faculty members and they will be joining her on the TRC Committee. Metallic will start by listening to what they envision for the next five years.
Metallic has a new project on the horizon—developing and sustaining an Indigenous law and governance lodge at the law school (an "Lnuwey Tpludaqann Wikuom"). The goal of the Wikuom is to make Dalhousie University a hub for supporting Mi'kmaq and other Indigenous communities in the Atlantic region in revitalizing their own laws, while educating members of the legal communities about ongoing developments in the areas of Indigenous laws and governance practices. This Wikuom will provide teaching, learning and potential career opportunities for students, allow for greater access, inclusion, opportunity and support for both faculty and staff and facilitate greater research and innovation.
"With the momentum we have from bringing a significant number of Mi'kmaq students and alumni through the IB&M Initiative, to the expansion of curriculum and capacity in teaching about working with Indigenous laws and governance, to partnerships with other programs at the university supporting Indigenous communities, Dalhousie is well suited to position itself as a leader in the vital work of Indigenous law and governance revitalization," says Metallic.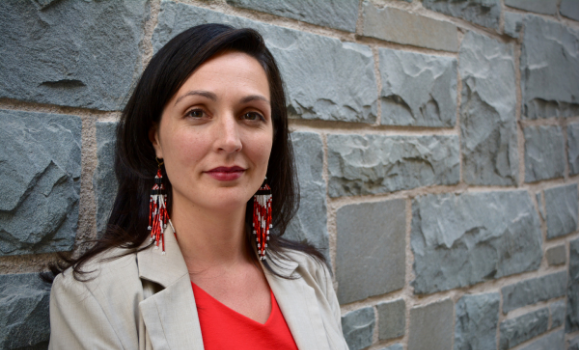 "Professor Metallic has done an outstanding job as the Chancellor's Chair in Aboriginal Law and Policy. She has boundless energy and an infectious optimism," says Richard Devlin, Acting Dean of the Schulich School of Law. "She has demonstrated if we think critically, acknowledge the realities of colonization and systemic racism and commit to structural change, then the Schulich School of Law can be a national leader in the long and difficult journey towards reconciliation. We are very lucky that she has chosen Schulich Law and are looking forward to continuing to work with her in the next five years in her term."
With Metallic as Chancellor's Chair in Aboriginal Law and Policy, the Schulich School of Law at Dalhousie University will continue to make important strides in shaping future legal minds to understand the role law has played as a tool for colonization and oppression in Canada's history and present and how it now can be used as a tool for decolonization and reconciliation.