News
»
Go to news main
Schulich Law students take first place at the McKelvey Cup Moot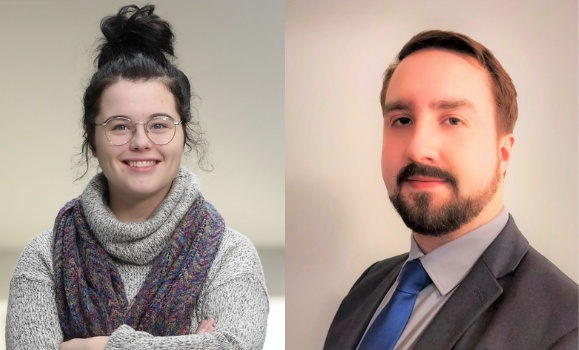 Congratulations to Schulich Law students Elizabeth Matheson and Anthony Buckland who took home top prize at the 20th annual McKelvey Cup Moot. With this victory, the Schulich Law team has won the McKelvey Cup four of the last six years.
Schulich Law student Eliza Richardson also received the award for best cross examination, as she and her partner Justin Monahan defeated a team from Université de Moncton.
The McKelvey Cup, which took place virtually on February 18-20, is a trial moot in which students do a mock jury trial. Each student goes through a direct and a cross examination, and either an opening or a closing statement. The Schulich Law team was coached by Jeremy Smith, Brian Casey QC, and Michael Scott. 
Taking it virtual
At one time, the idea that Zoom meetings would be used for mock jury trials was hard to imagine. However, this year's teams had to adapt to this virtual reality.
"The preparation was challenging (because trials depend on assessing your witness and your audience). A virtual moot deprives the performer of the assessment information he or she would have in real life: they can't see if the judge or jury is on the correct page of the exhibit, whether the judge needs a pause to take a note, or notice when someone is starting to rise for an objection," explains coach Brian Casey. "That lack of feedback was challenging for everyone - and will be familiar to those who have tried to teach or learn over Zoom."
Although the virtual moot was unfamiliar territory for everyone involved, overall it was a success.
"It is always satisfying to watch students master new skills that they first had to struggle with," says Casey. "This year we had the chance to do that together, because we all needed to learn the skills to transition from a real world to a virtual one."
What our team is up to next
Elizabeth Matheson and Anthony Buckland will now represent the region at the national Sopinka Cup competition that will be held virtually in Ottawa this March. No law school has won the Sopinka Cup more often than Schulich Law.
"We are both excited and honoured to be representing Schulich Law and the Atlantic region at the Sopinka Cup in Ottawa. We feel that this competition has been one of the most enjoyable aspects of law school which we would highly recommend to anyone interested in trial litigation," says Schulich Law students Matheson and Buckland.
"We are especially thankful to our coaches, Brian, Jeremy and Mike, for helping us develop the skills we needed to win at the regional competition, as well as our teammates, Eliza Richardson and Justin Monahan. They both deserve enormous recognition for their skills, support, and accomplishments. Without Eliza and Justin keeping us on our toes, we very likely would not have been as successful as we were in the McKelvey competition. This experience is unlike anything else you will get in law school!"
We wish our team luck at the national Sopinka Cup competition!
Stay up to date on our 2021 competitive moot results.