News
»
Go to news main
IB&M Initiative welcomes new director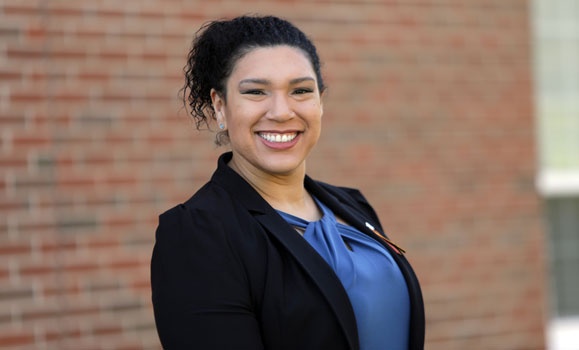 On July 13, Kelsey Jones (LLB '14) became the new director of Schulich Law's Indigenous Blacks and Mi'kmaq (IB&M) Initiative. A graduate of the program, Jones' last role was as the African Descent Student Affairs Coordinator at St. Francis Xavier University (StFX).  Prior to her time at StFX, Jones articled with the Nova Scotia Department of Justice in Halifax, and held roles with the Canadian Red Cross and the CBA Young Lawyers International Program. In addition to her JD, she holds a BA in Political Science from Dalhousie and a Masters' in Education, Administration and Leadership from StFX.
What drew you to this role?
From a young age, I came to understand the power of education and its transformative ability in society. Education can be a tool of oppression or an instrument for equitable societal change; therefore, my career choices have always reflected the values instilled in me regarding the crossroads between education and social justice. 
Due to my work in the legal profession and a long history of providing academic support to African Nova Scotian students and working collaboratively with the Office of Indigenous Student Affairs at StFX, I felt I had the lived experience and professional expertise to lead the IB&M Initiative. Furthermore, due to my Masters in Education, I feel confident that I can provide holistic, culturally responsive support required for incoming and current Mi'kmaq and Black students. 
How does it feel to be back at Schulich Law?
It feels wonderful being back at the Schulich School of Law as the director of the IB&M Initiative. I still remember the intimidation I felt on the first day of law school as a student; however, as I walked through Schulich Law's doors as the Director, I felt no intimidation but only a strong sense of duty to the legacy of the IB&M Initiative. A legacy that I am genuinely honoured to uphold. 
The warm welcome from students, alumni, faculty and staff, truly humbles me, and I look forward to meeting everyone in person once restrictions are lifted. 
What role did the IB&M Initiative play in your own education?
Before attending law school, I was in a job where I felt as though I had no voice. I felt undervalued and that my opinions, especially regarding racial issues, were not being fully considered even though I was the only Black person in the room. The IB&M Initiative changed my life, and it created a community of support and friendship as I navigated law school. Through conversations with my IB&M colleagues, it strengthened my voice and confidence to better advocate for myself and others. 
When my mother passed away during my third year of law school, it was the hardest time in my life. It was the IB&M Initiative that provided me with the support I needed to grieve and the tools to be academically successful. It was the IB&M community that gave me the strength to continue with law school, and it is because of the IB&M Initiative that I am here today. 
What are you most looking forward to in this new position?
I am most looking forward to meeting incoming and current IB&M students and getting to know their future ambitions. I am eager to implement the various academic and cultural supports that will help them reach their goals and see them reach their fullest potential. As I remember how I felt the first day of law school, I want IB&M students to know that there is someone dedicated to their success as they traverse law school and the legal profession. 
How is the IB&M Initiative changing the face of the legal community?
In September 2019, The IB&M Initiative celebrated its 30th anniversary. Since its establishment in 1989, over 217 Black and Indigenous graduates have taken up a range of leadership roles across Nova Scotia and beyond. They have pursued careers in government, private law firms, and many different organizations across Canada.
Most recently, IB&M alumni, the Honourable Aleta Cromwell (LLB '98), and the Honourable Perry Borden (LLB '02), were appointed to the judiciary. Furthermore, Josie McKinney (LLB '06) was appointed as the first Crown Attorney dedicated to the prosecution of human trafficking offences in Nova Scotia. These are only the most recent examples of how our IB&M alum are shaping the legal profession and the justice system.