News
»
Go to news main
Student research at the crossroads of health law and policy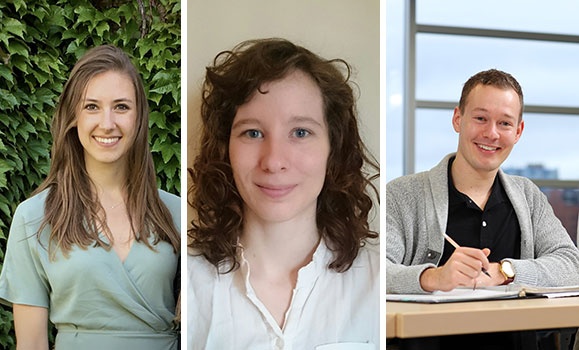 The annual Crossroads Interdisciplinary Health Research Conference brings students from across Canada together to share their research, connect, and collaborate with peers from diverse academic backgrounds. This year, three Health Law and Policy students had planned to present their research at the March 13-14 conference, but it was cancelled due to the COVID-19 pandemic.
"There are so many benefits to having law students share their research and participate in this conference," says Professor Joanna Erdman, associate director of the Health Law Institute and McBain Chair in Health Law and Policy. "One is the opportunity for interprofessional engagement. It's a great reminder that law is only one part of the health policy puzzle – and of the importance in solving that puzzle collectively."
Although the conference was cancelled, we wanted to showcase our students' research, and highlight the interesting, impactful work they are doing.
Amanda Steger
Amanda completed a Master of Public Health before attending law school. Her paper "The legalization of cannabis in Canada: did it hit a 'high' note or did it go up in smoke?" looks at the impact of cannabis legalization, and compares the government's stated public health goals with actual outcomes. Amanda's work combines her passions – science, health and legal research. "I felt that presenting my cannabis research at Crossroads would open interesting channels of discussion, by exploring the legal and regulatory side of cannabis legalization, but through the critique and lens of healthcare and health research." 
With the recent legalization of cannabis edibles, Amanda plans to revisit this topic in her studies next year. This summer, she's working with the College of Physicians and Surgeons of Ontario in their legal and policy department.

Andrea MacGregor
Through her paper "Conflicts of interest in self-regulating health professions' complaint proceedings: A Nova Scotia case study," Andrea looked at advertising complaints made to the Nova Scotia College of Chiropractors (NSCC), comparing the decisions in each case with the NSCC's conflict of interest standards. She concluded that the College's legislative scheme does not adequately regulate conflicts of interest and bias in complaint decision-making processes, and identified a need for legislative and policy reforms to better protect procedural fairness and public accountability in health professional regulation.
Andrea sees her research as reflecting larger issues in health professions regulation, highlighting the need for system reform. "Reforms to health professions regulation are in consideration or underway in several provinces," says Andrea. "I hope that this research can add to the discussion about current regulatory issues, and that conflicts of interest within health professions regulators can be included among the important considerations that can be readily targeted by reform."
Next year, Andrea looks forward to working on more health policy related research projects, as well as starting her third year of studies in the JD program.
James Whittier
James' paper Examining the "Self" in Medical Self-Regulation: A Study of the College of Physicians and Surgeons of Nova Scotia" was completed under the supervision of Professor Elaine Gibson, as part of her Advanced Negligence and Medical Malpractice class.
By conducting a systematic analysis of every published College decision under Nova Scotia's Medical Act from 1995 – 2019, James concluded that the College's interpretation of the Act and its regulations is remedial and not punitive, having the effect of what appears to be the College safeguarding physicians' licence to practice. "The College has no appeals process and has created the threshold for licence revocation to be very high," says James, "I ultimately found that the College could benefit from mirroring Australia's legislative landscape of co-regulation if the public will and political appetite ever converge."
James is heading into third-year this fall, and will be articling at Justice Canada after graduation.