News
»
Go to news main
Leading the Way: Schulich Law launches new course exploring legalization of cannabis in Canada
Posted by
Tom Mason
on October 21, 2019 in
News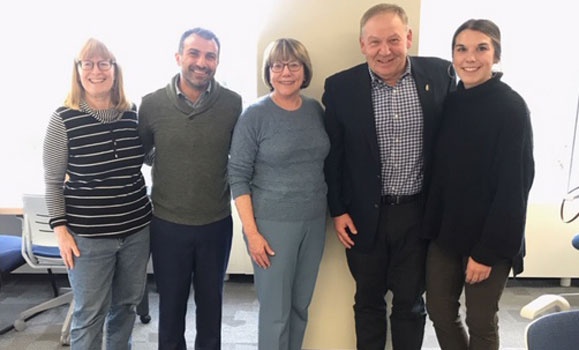 In 2018, Canada became just the second country in the world to legalize cannabis, a dramatic move fraught with unknowns and untested legislation. The Canadian legal community is still working to understand the ramifications. To examine the issue further, the Schulich School of Law has developed a new survey course that will explore various aspects of legalization.
The two-and-a-half-day course, which was taught over 12 hours to second- and third-year students last week, will examine the long history toward legalization in Canada, starting with the 1972 Le Dain Commission of Inquiry into the Non-Medical Use of Drugs and the legalization of medical cannabis in 2001. Other major milestones addressed by the course will include the Task Force on Cannabis Legalization and Regulation headed by Dalhousie Chancellor and former federal cabinet minister Anne McLellan ('74), and key court cases. The course also explored the pharmacological issues around cannabis use and the responses of different provinces to the mechanics of legalization.
The one-credit course was co-taught by McLellan and Darrell Dexter ('87), with contributions from other experts in the field, including regulators, legal professionals working for licensed cannabis producers, and pharmacologists. McLellan will be able to speak to law students about her experience leading the task force on cannabis legalization. Dexter, who serves as an advisor to the cannabis industry, will also bring a wealth of knowledge to the course.
The law school started planning for this course shortly after full legalization became a reality in the fall of 2018. Chelsea Cox who recently completed a double masters degree in law and health administration at Dalhousie, was also involved in preparing the course. "We are very fortunate to have Chelsea's help with this," says Dean Camille Cameron. "She has a strong interest in and knowledge about cannabinoids, from both a health and a legal perspective."
To take something like this from an illegal substance to a legal one touches on so many areas of law—commercial, criminal, constitutional." — Chelsea Cox
Cox, who is interested in the intersections of law, health-care policy and ethics, is currently completing a PhD in law at the University of Ottawa that focuses on the impacts of cannabis legalization. "This is a brand-new area," says Cox. "We're the first country outside of Uruguay to legalize cannabis on a national level. It has really positioned Canada as a leader in the space. To take something like this from an illegal substance to a legal one touches on so many areas of law—commercial, criminal, constitutional."
Identifying emerging topics in cannabis law
Covering everything from the pharmacology of cannabinoids to an examination of regulatory responses across Canada, the course looked at how provinces have responded to regulation in different ways. "It will also examine the commercial and industrial dimensions of legalization," says Cameron.
The course kicked off on Oct. 17, the first anniversary of the day cannabis officially became legal in Canada. "We really didn't plan it that way," says Cameron. "It just worked in everyone's schedules."
 
We're only the second country to fully legalize cannabis on a national level. We skipped the decriminalization process altogether and went directly to legalization, so we still have things we need to figure out and learn." — Anne McLellan
McLellan is excited to be participating at her alma mater and says that courses like this one are crucial in helping legal professionals to understand the complexities of the cannabis business. Canada is a pioneer in the legal cannabis industry, and legal scholars have much to learn. There is still a great deal of confusion surrounding the industry, which this course will explore. "There isn't a lot of precedent for what Canada has done," she says. "We're only the second country to fully legalize cannabis on a national level. We skipped the decriminalization process altogether and went directly to legalization, so we still have things we need to figure out and learn."
Promoting public use isn't the point of the new cannabis legislation; rather, it's about promoting public health and safety. "It's a new and emerging area, and the more people who have training in the area the better," says McLellan. "Doctors and health professionals, the legal profession, business people, agricultural businesses—the more people who understand this, the better it is. This issue is going to affect so many members of our society."
Cameron says the new cannabis course is important for identifying new and emerging topics in the field of cannabis law. Having instructors like McLellan and Dexter, who are heavily immersed in the topic, is invaluable.  "Both Anne and Darrell were very keen on the idea of this course when we approached them," says Cameron. "They both saw a lot of value in what we're trying to do and were eager to participate."
With Canada essentially testing the "cannabis legalization waters" for the rest of the world, there is a lot of responsibility to get things right. "It's important for us to identify present and future challenges," says Cameron. "That's one of the things this course will do."