News
»
Go to news main
Transforming Mulgrave Park with art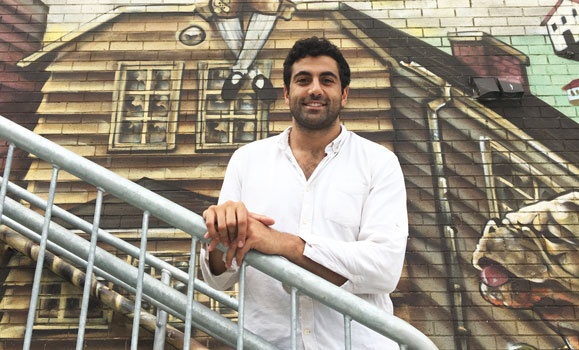 This summer, second-year Schulich School of Law student Ziad Lawen worked to make Halifax a bit more beautiful. He volunteered his time organizing Paint the Park, a mural event that aims to beautify Mulgrave Park in the city's North End.
Sixteen artists from across Canada, the United States, Tunisia, and Iran spent from Aug. 24 to 31 painting colourful murals on several bare building walls in the community. The event began in 2016, when Halifax resident Jeremy Williams launched the project to honour his late friend Tyler Richards. Today, the street art has transformed Mulgrave Park's outdoor space into a public art gallery, with large murals on the sides of some the buildings in the inner-city public-housing development.
When Lawen heard that Williams, who is a good friend, needed someone to help secure sponsorship for this year's event, and to handle communications and media relations, he didn't hesitate to lend a hand. "I had a friend with a need, and it was a good idea," he says. "It was a lot of fun to knock on doors and talk to people about what the project is all about. Mural art is a beautiful way of bringing art to underserved areas of the city."
I've been inspired by the kindness and generosity of the city in response to this project and motivated to do more to make Halifax even better than it already is. — Ziad Lawen
Inspired and motivated to do more
Although Lawen isn't an artist himself, he was happy to contribute in other ways. His duties included discovering different sponsorship opportunities, managing the media and social media platforms, and handling the general needs of the event, from picking up the artists at the airport—they came from as far away as Los Angeles, North Carolina, Denver, Montreal, and Toronto, as well as Nova Scotia and New Brunswick—to buying the paint.
Before the event, the co-organizers offered to meet with community members to get their feedback on the project; around 15 people showed up to give their input and approval. "I've been inspired by the kindness and generosity of the city in response to this project and motivated to do more to make Halifax even better than it already is," says Lawen. "Why wouldn't we encourage each other's neighbourhoods to be the best they can be?"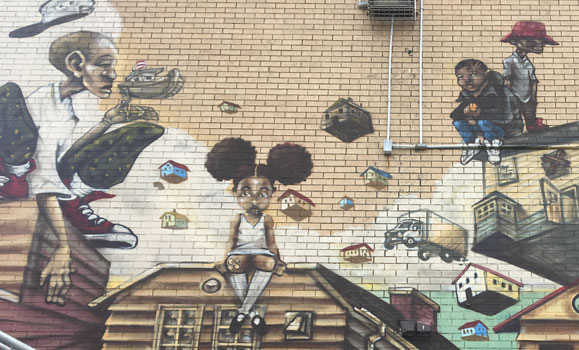 And this is just the beginning. Williams, Lawen, and Halifax artist Michael Burt have formed The Bigger Picture Association, a non-profit organization aimed at beautifying Halifax, of which Lawen is the director. "Paint the Park is just one of our projects," he says. "We also want to renovate basketball courts around the city. If I'm going to live in Halifax, there's no reason why it can't be as beautiful as any other city in the world."