News
»
Go to news main
Meet Michelle Mahoney, the newest member of our Schulich Law Team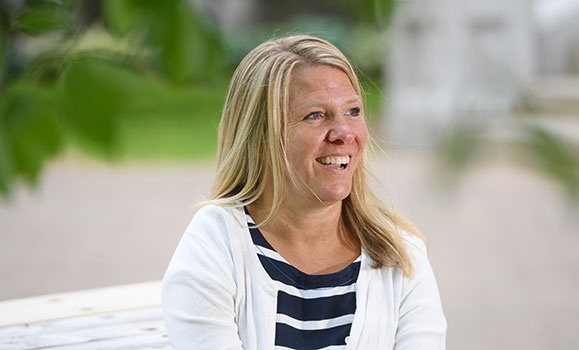 This fall, students, faculty, and visitors will notice a new smiling face at the reception desk of the Weldon Law Building. Meet Michelle Mahoney, our new first-floor receptionist and Career Development Office assistant. Originally from Springhill, N.S., Michelle has been a Dalhousie employee for more than 20 years, working in various roles, including the past 10 years at the School of Occupational Therapy.
"In the coming months, I'm looking forward to learning about the various areas of the law and getting to know the students and helping them achieve their dreams," says Michelle. "If I can help one person every day, and I've made a difference, then my day is complete."
Michelle's determination and positive outlook are something she learned from a young age. She was born with arthrogryposis, a rare condition that results in limited mobility in the arms, hands, and knees. Her life motto is "I can do anything, it just might take me a little longer."
I look forward to helping law students on their journey to become successful lawyers and to find employment after graduation. — Michelle Mahoney
"Anything" includes surfing, skiing and taking part part in the Easter Seals Drop Zone where she has rappelled some of the tallest buildings in Halifax. On Sept. 27, she will participate for the fourth time tackling a 23-storey office tower downtown. Michelle sits on the board of directors for Easter Seals Nova Scotia and was recently appointed to the national board. "I owe so much of my success to this organization," she says. "Knowing firsthand what they do and benefitting from it too, I have come full circle."
Michelle's volunteer work and commitment to her community is in line with the values of the law school. "Knowing that my involvement with Easter Seals is aligned with the Weldon Tradition means that I fit in here," she says. "It's important for me to give back, because I don't believe that life is meant to be self-serving."
In May, Michelle was thrilled and humbled to learn that Occupational Therapy's Class of 2019 had created a student award acknowledging her contributions to the school and the profession of OT. Beginning this fall, the $500 Class of 2019 Michelle Mahoney Prize will be awarded to a second-year OT student.
"My life purpose is to educate people that anything is possible," says Michelle. "I look forward to helping law students on their journey to become successful lawyers and to find employment after graduation."